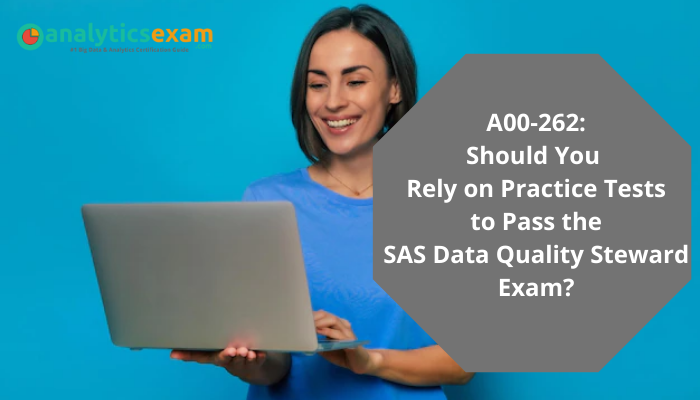 Data Management is an essential aspect of today's world, and earning the SAS A00-262 certification can help you explore SAS Data Quality Using DataFlux Data Management Studio features. Therefore, study hard and include the A00-262 practice tests to prepare for faster success.
Who Should Take the A00-262 Certification?
The SAS A00-262 certification exam is designed for individuals who use DataFlux Data Management Studio to perform various data quality tasks, including profiling data, cleansing data, and monitoring data for usability.
What Knowledge Should You Possess to Take the A00-262 Certification?
The Successful A00-262 Candidates Should be Able to:
Do data jobs for data improvement.

They must make parameters for jobs and business rules within DataFlux Data Management Studio.

Maintain, create and apply business rules and tasks.

Review and create data explorations and data profiles.

Know the QKB components and various definition types.

They should apply QKB components to work on data quality issues.

Expand basic functions using Expression Engine Language (EEL).

Create process jobs.

Use macro variables.

Configure the DataFlux Data Management Server to perform jobs.
Details of the A00-262 Exam:
SAS and Pearson VUE administer the A00-262 exam. The A00-262 exam is a 75 questions long exam comprising multiple-choice and short-answer-based questions. You will get 110 minutes to take the exam and should get 68% marks to pass the exam. This exam is based on SAS 9.4.
How to Prepare for the SAS A00-262 Certification?
Join the SAS A00-262 Training:
Acing the SAS A00-262 exam always requires you to have a combination of practical and theoretical knowledge, and what might be better than having the certification training? You can enroll for any of the following training
1. DataFlux Data Management Studio: Fast Track
2. DataFlux Data Management Studio: Understanding the Quality Knowledge Base
3. DataFlux Data Management Studio: Creating a New Data Type in the Quality Knowledge Base
The classroom training is four days long and introduces DataFlux Data Management Studio. You can avail yourself of the different training methods depending on your time. These include topics for data monitoring, usage of DataFlux Expression Engine Language, data profiling, data jobs to perform data management tasks, macro variables, and process jobs. You will learn to-
Define and use macro variables.

Create process jobs.

Understand data explorations.

Create and review data profiles.

Make data jobs to improve data quality.

Create data jobs to perform entity resolution.

Establish monitoring aspects for your data.

Work with the DataFlux Expression Engine Language.
Visit the Official Page for Making A Solid Study Schedule:
Visiting the SAS A00-262 official page could feel like a simple task, but it holds a lot of information. The official page offers you the essential details regarding the books, exam content, books, and training. Go through these details to understand the nature of the exam and plan out a study chart. Planning is essential to execute the exam preparation effortlessly.
Complete the A00-262 Syllabus Topics:
Having a firm grip on the SAS A00-262 syllabus topics is essential if you want to pass the A00-262 exam on your first attempt. Learning each section from the core is vital, as you will face short answer types and multiple-choice based questions in the exam. Therefore, prepare well and make sure that you attempt a maximum number of questions for sure success.
Notes Making Will Help Boosting Your Preparation:
If you keep on studying, but you can't remember anything after a certain period, that won't help you in the long run. Therefore, start making notes to memorize the topics for longer. Making notes in an indexed pattern would help you to revise faster. When you are in a rush before the exam, you don't need to go through the whole syllabus; you can read from these notes and complete your revision.
Assess Where You Stand through A00-262 Practice Test:
It is always advisable to check your preparation level before taking the actual exam. Therefore, enroll yourself in the online A00-262 practice tests and assess your preparation level regularly. The most beneficial aspect of these time-based practice tests is that you get familiar with time management, and facing the actual A00-262 exam in the exam hall becomes easy. Having a high score in the mock practice exams should be your goal, as it will ensure you earn better marks in the A00-262 exam. Get insights from the result section, and learn which sections need more of your attention.
Dumps are easily available for the A00-262 exam, but you will only learn from them if you study with dumps. Therefore, study with practice tests for a better assessment of your preparation.
What Is DataFlux Data Management Studio?
IT organizations today are continuously facing issues of doing more with less. Reusing data processing jobs and using best practices to monitor the health of your data are proven methods to improve the productivity of data professionals. DataFlux Data Management Studio combines the SAS Data Quality and the SAS Data Management offerings that help you to create data processing jobs to cleanse, integrate, and monitor your data.
You might write global functions for SAS Data Management jobs that are reused in any system expression, in either process flow or data or jobs. Global functions can be called from monitor rules, profile filters, expression nodes, surviving record indicators, process flow if-nodes, and more.
Benefits of Using SAS Data Management:
Use the Seamless Process and Stay Confident:
SAS Data Management is a truly integrated technology, which means you don't need to work with a solution that's been cobbled together. All the components, from data quality to data federation technology, are part of the same architecture. With SAS and its experts, data is prepared for visualization, analytics, or operational use. The source data lineage allows the user to trace data usage across the organization.
Productivity and Efficiency Are Increased:
No matter where your data is kept, from the cloud to legacy systems or data lakes, SAS Data Management helps the user get the data they need. With SAS, you can make data management rules once and reuse them. You can get a standard, repeatable method to improve and integrate data without additional cost.
Concluding Thoughts:
SAS Data Management allows the business users to update data, tweak methods and analyze results themselves, freeing them up for other projects. In short, SAS Data Management plays an important role in aiding business users. Therefore, grabbing the related SAS A00-262 certification proves to be beneficial for opening up new career opportunities. Therefore, prepare well and get the certification.