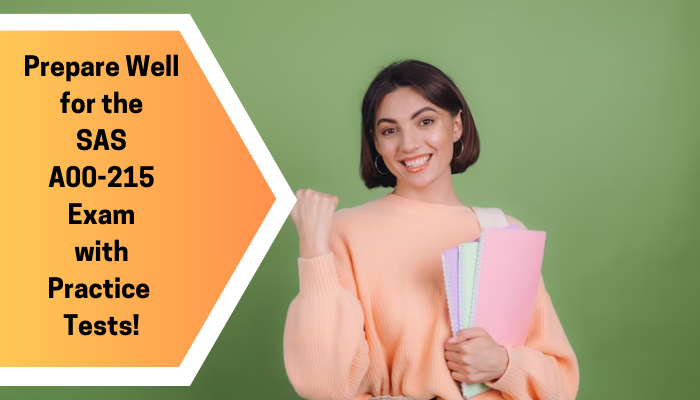 Do you want to become A00-215, SAS Certified Associate - Programming Fundamentals Using SAS 9.4? Do not worry; this article talks about the tips and practice test materials to get certified.
Who Is A SAS A00-215 Associate?
A00-215, SAS certified programming associate is a professional who possesses the following skills-
Discover and retrieve data sets in SAS.

Transfer data between SAS and other file formats.

Govern data processing using loops and conditional statements.

Modify data with formulas and assignment statements.

Generate simple descriptive and summarized reports with Base SAS procedures.

Arrange and structure SAS data with Base SAS procedures.
What Is the SAS A00-215 Exam Structure?
SAS conducts the SAS 9.4 Programming Fundamentals exam in collaboration with Pearson VUE.
It consists of 60-65 questions that mix multiple-choice and short-answer. Candidates have 120 minutes to complete the exam; a minimum passing score of 68% is required to qualify. The exam is based on SAS 9.4 M5 version.
How to Prepare for the A00-215 Exam?
The SAS A00-215 certification is an important milestone for anyone looking to advance their career in data analysis. However, preparing for the exam can be challenging, especially if you're new to SAS programming. Let's explore some of the effective tips and strategies to pass the SAS A00-215 exam.
Know the A00-215 Exam Format:
Before you start your preparation, it's essential to understand the format of the A00-215 certification exam. When you are aware of the exam structure, you can set the most effective study routine that is helpful for exam preparation.
Identify the Topics and Proceed with A Study Plan:
Once you've familiarized yourself with the exam format, the next step is to create a study plan. Start by identifying the topics covered on the exam, and then prioritize them based on your strengths and weaknesses. Allocate sufficient time for each topic, including practice exams and review sessions.
Use SAS Documentation:
SAS provides comprehensive documentation for its software, which is an excellent resource for exam preparation. Review the SAS programming fundamentals, data management, and report generation chapters. It's important to understand the SAS language, syntax, and structure well.
Utilize A00-215 Online Resources:
Online courses can be an excellent way to supplement your self-study efforts. SAS offers a range of online courses for its software, which can help you learn at your own pace. Look for courses that cover the topics on the A00-215 exam and include hands-on exercises. SAS offers webinars, youtube videos, and practice software to prepare for the A00-215 exam. Avail of these resources to prepare for the exam.
Why Are Practice Tests Essential in the A00-215 Exam Preparation?
One effective way to prepare for the SAS A00-215 exam is to take practice tests. Practice tests are designed to simulate the actual exam environment and help candidates evaluate their level of preparedness. Here are some reasons why practice tests are essential in SAS A00-215 exam preparation:
Identify knowledge Gaps with A00-215 Practice Tests:
Taking A00-215 practice tests can help candidates identify their knowledge gaps and areas where they need to improve. It is common for candidates to assume that they are fully prepared for the exam, only to realize that they lack in-depth knowledge of certain concepts or skills. Practice tests can highlight these gaps and enable candidates to focus their preparation efforts on the areas that need improvement.
Build Your Confidence with A00-215 Practice Tests:
A00-215 practice tests can help build confidence in candidates. By simulating the exam environment, practice tests can help reduce the anxiety and stress candidates may experience during the exam. Moreover, as candidates complete practice tests, their confidence in their skills and knowledge can increase, giving them assurance and motivation to perform well in the exam.
Manage Time Well:
The SAS A00-215 exam has a time limit of 120 minutes, and candidates need to answer a significant number of questions in this duration. Time management is, therefore, a critical skill that candidates need to develop. Taking practice tests can help candidates practice their time management skills by giving them an idea of how much time they should allocate to each question. It can also help them identify time-consuming questions and develop strategies to manage their time effectively.
Familiarize with the A00-215 Exam Format:
Practice tests can help candidates familiarize themselves with the exam format and the type of questions likely to appear in the exam. The SAS A00-215 exam consists of a mix of multiple-choice and short-answer type questions. Practice tests can help candidates understand the structure of these questions and develop an approach to answering them effectively. Moreover, taking practice tests can help candidates get accustomed to the exam's interface and navigation, which can help reduce confusion and increase efficiency during the actual exam.
Why Should You Earn A SAS Certification?
SAS (Statistical Analysis System) is a powerful software suite used for advanced analytics, data management, and business intelligence. It is widely used across various industries, such as finance, healthcare, retail, and more. In today's competitive job market, having SAS certification can give you a competitive edge and open up new career opportunities.
One of the main reasons to get SAS certified is that it validates your expertise and skills in using SAS software. Certification is a formal recognition of your knowledge and proficiency in using the software, which can increase your credibility and make you a valuable asset to potential employers. It shows that you have invested time and effort in learning the software and have achieved a level of proficiency that the SAS Institute has recognized.
Bottom Line:
Now you know why you are SAS Certified, and the practical study plan is here to prepare you for the SAS exam. Therefore, study hard, prepare for the exam, and become SAS A00-215 certified.