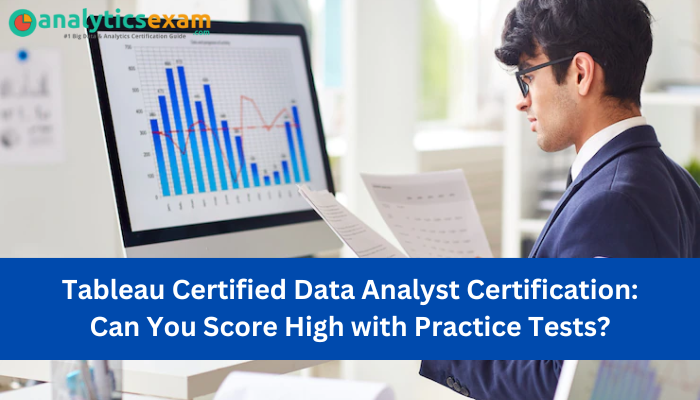 Tableau Certified Data Analyst certification is a good career advancement option. Therefore, enroll for practice tests and become assured of acing the exam on your first attempt.
Who Is A Tableau Certified Data Analyst?
A Tableau Certified Data Analyst is an individual who helps stakeholders to make business decisions by knowing the business problem, identifying data for better analysis, and delivering actionable insights.
Is There Any Prerequisite to Taking the Tableau Certified Data Analyst Certification Exam?
There is no specified prerequisite to take the Tableau Data Analyst exam. Everyone has a different learning phase and learns Tableau differently. One must follow the Tableau-provided resources for better learning, not to work as requirements for the certification.
What Is the Tableau Certified Data Analyst Exam Structure?
The Tableau Certified Data Analyst certification is a 120-minute exam where you will face knowledge-based and performance-based exams. The knowledge-based part includes multiple-choice, multiple-selections and Active screen questions. The aspirant can get the demonstration of knowledge-based questions from the official page. The performance-based exam tests your practical knowledge. The aspirant faces 30 knowledge-based questions and one hands-on lab with 10 to 11 questions. They will also face a combination of unscored knowledge-based and hands-on questions.
How to Plan the Tableau Certified Data Analyst Certification Exam?
Take Enough Time to Get Ready for the Tableau Certified Data Analyst Exam:
To get accustomed to Tableau, one must take enough time of at least six months. Therefore, set a gap of at least six months whenever you register or plan your exam after this interval.
Visiting the Official Page Is Essential to Explore Study Resources:
The official page offers various resources to prepare for the Tableau Data Analyst certification exam. You can join any of the following courses-
Tableau Certified Data Analyst Exam Readiness:
The course is a ready-made bundle to help an aspirant build the confidence and skills they need to become a Tableau Certified Data Analyst. This course offers you two exam vouchers.
Take the Analyst Learning Path:
Analyst Learning Path is a combination of eLearning and badges built for the Analyst skill set. Take the Tableau Training path.
Have A Schedule to Cover the Syllabus:
Syllabus completion is one of the major tasks, and through consistency, you can grasp all the syllabus domains within a specific time. Therefore, chalk out a study schedule and follow it rigorously to achieve the best results in the Tableau Certified Data Analyst certification exam.
Take Practice Tests for a Better Understanding of the Exam Structure:
If you are aware of the exam structure, that helps you in attempting the multiple-choice questions within time. Therefore, enroll for valuable Data Analyst practice test questions, where you face real-time questions and become familiar with the exam structure. Through multiple practice test attempts, you can learn more about your strengths and weaknesses and improve regarding preparation. Therefore, learning with practice tests assures you a good score on the final exam.
Who Is A Data Analyst?
In a nutshell, data analysts are individuals who analyze raw data in order to find out meaningful insights. They then turn the insights into actionable suggestions, allowing the organization they work for to make smarter business decisions.
What Could Be Your Possible Job Roles As Data Analyst?
As a data analyst, the aspirant can expect to do the following work:
Implement, Develop, and maintain databases on an ongoing basis.

Merge with key business stakeholders to check out specific business challenges to solve them quickly.

The aspirant needs to collect and organize raw data from internal sources and, if needed, from external open data sources like Google Trends.

They must clean the raw data and prime it for analysis.

Interpret the findings, turn them into visualizations such as charts and graphs, share them with key stakeholders, and advise on planning and actions for the future.
How Could the Data Analyst Benefit Organizations?
The true mark of a successful data analyst is the skill to present complex insights in a user-friendly and accessible manner. As the data expert, it is the Data Analyst's responsibility to make sure that key operations can be translated into action, and that means making them easily useful for non-data experts. The Data Analyst certification is for you if you know how to explain tricky concepts clearly and precisely and are a confident collaborator.
As a Data Analyst, you can bring immense value to organizations by showing them the path to use data smarter and make better decisions. To excel in the Data Analyst role, it is essential not only to get practical with data but also to cut down the gap between the numbers and the real-world applications for the organization. Suppose you're well aware of how businesses work and enjoy working closely with key stakeholders. In that case, you're well-positioned to earn the crucial space between data and business strategy and can benefit the organization.
Bottom Line:
Data Analyst is a growing career field. As you earn experience as a data analyst, you may get opportunities to improve your career in several different ways. Depending on your goals and interests, you may progress into management, data science, consulting, or a more specialized data role. Therefore, study hard and become a Tableau Certified Data Analyst.