SAS or "Statistical Analysis System" programmers utilize analytic software products produced by the SAS Institute. These programmers work with organizations in a variety of industries to develop system solutions using data driven decisions related to risk management and company as well as personal performance also financial, fraud, customer, and security intelligence.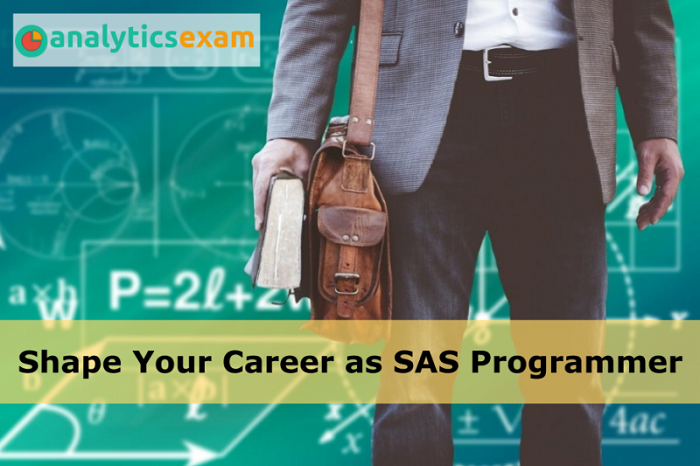 The people working as a programmer in the field, have great analytical and reasoning capabilities. Most of the time they work in groups of small to a large number of individuals and spend most of the time in front of the computer. Their day starts and ends with data and most of the time they receive the data, sometimes they may need to collect as well. Though the most of the work is in office, sometimes it can be stressful due to strict deadlines.
Career Requirements for the SAS aspirant should be holding a Bachelor's degree, however, a master's degree is preferred from the field either Statistics, computer science, or other related fields and He/she should be holding experience of 3 to 5 years. The aspirant should be Excellent in problem-solving and analytical skills as well as should be having advanced mathematical abilities, proficiency utilizing SAS Proc SQL, SAS Macro, Unix, Linux, and other SAS programs. Familiarity with various web application tools and Windows programs will be an add-on.
Millstones To Become

a SAS

Programmer
1St College Degree
The employers prefer SAS programmers who have completed a statistics or computer science bachelor's degree program at least. Relevant coursework in a statistics program includes statistical analysis, sampling, regression analysis, data mining, data science and actuarial science will be a great add-on. Courses in computer science programs include database applications, foundations of programming languages, operating system design and implementation, parallel computer architecture, and mathematical foundations of computing. It is advisable to any SAS or Analytics career aspirant to develop the mathematical skills. Students in statistics, computer science, and related programs should prepare themselves for advanced mathematics classes, including all aspects of statistical calculations.
2nd Acquire SAS Certification
Students can begin their SAS certification at any time. The SAS Global Certification program provides training, e-learning, and certification courses and exams in areas including programming, advanced analytics, business intelligence and analytics, data management, and administration. Aspiring SAS programmers can sit for certification exams and earn the base programmer, advanced programmer, and clinical trials programmer designations for SAS 9. List of the certificates as below,
Foundation Tools
Administration
Advanced Analytics
Data Management
BI & Analytics
3rd Gain SAS Programming Work Experience
Once an individual completes a postsecondary degree and becomes certified in SAS programming, there are a variety of industries to consider when seeking employment. If there are experiential requirements for a specific position which an individual has not met, one might consider doing volunteer work as a programmer to gain hands-on experience outside of a classroom.
As soon as possible, you'll want to join the SAS community. The SAS community is an online group of SAS programmers where one can find answers and collaborate with others. The SAS community is also an excellent source for professional tips, articles, job openings, product information, and sharing forums.
You'll also want to join other programming societies. Joining programming societies facilitates meeting others in the field, as well as staying current with technological news. One such society is the National Association of Programmers (NAP), which is committed to educating its members by offering certification courses and publishing industry-related articles. For individuals whose area of focus is mathematics or statistics, the Mathematical Optimization Society serves as an educational, support, and networking group.
SAS programmers have advanced analytical and mathematics abilities. They usually have master's degrees along with SAS certification, and they earn a median annual salary of $90,000.
4th Consider Getting an Advanced Degree
Many employers prefer to hire SAS programmers who have advanced degrees or master's degrees in statistics or computer science. Acquiring an advanced degree can make an individual more competitive when applying for jobs and eligible for further promotions at a given organization. For example, individuals with a master's degree in statistics can work as SAS statistical programmers or operations research analysts. A master's degree program enables individuals to work with research and develop codes that manipulate data and conduct statistical evaluations.
It's a good idea to find an area of programming or statistics on which to focus. SAS programmers come from a variety of backgrounds. The most common areas of study include statistics, computational biology, bioinformatics, and computer science. Some employers require candidates to have work experience in both programming and a specific area of study. For example, an employer may be seeking candidates with experience in both SAS programming and biotechnology, for which a master's degree in computational biology would be helpful.