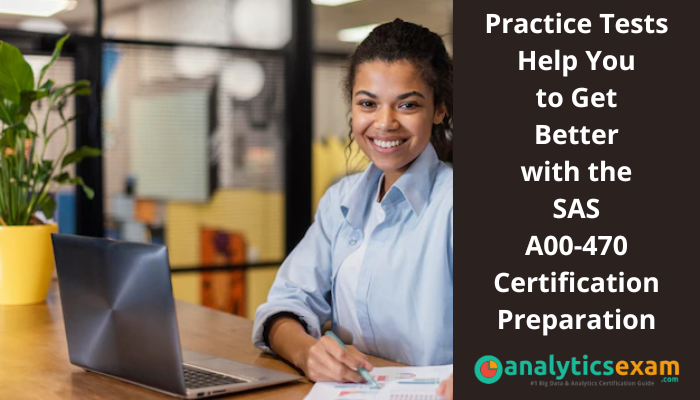 Pass the SAS A00-470 exam to use SAS Visual Business Analytics in your work. You can combine a study guide and practice test to pass the exam. SAS Visual Business Analytics provides fast answers to complex questions drawn from datasets of all sizes. It provides guided exploration, interactive dashboards, smart visualizations, and self-service analytics to users of all technical skill levels and promotes data literacy and visibility.
Who Should Take the SAS A00-470 Certification?
The A00-470 certification is designed for analysts who use SAS Visual Analytics to analyze data and design reports.
What Skills Should You Possess to Take the SAS A00-470 Exam?
The successful A00-470, candidates should be skilled in topics such as
Analyzing data with SAS Visual Analytics
Adding and manipulating data items within SAS Visual Analytics
Designing and sharing reports using SAS Visual Analytics
What Is the Exam Structure?
The A00-470 exam consists of 50 to 55 questions, which you need to take within 100 minutes. You can face multiple-choice-based, short-answer, and interactive questions. These interactive questions simulate the SAS Visual Analytics user interface and ask the candidate to configure a portion of SAS Visual Analytics to create a specific object or result. You must obtain a score of 67 percent to pass the exam. The A00-470 exam stays valid for five years.
How to Prepare for the SAS A00-470 Certification?
Join the SAS A00-470 Training:
If you possess practical knowledge along with theoretical knowledge, acing the A00-470 becomes easy, and what could be better than getting the certification training? You can join any of the following training-
SAS Visual Analytics 1 for SAS Viya: Basics

SAS Visual Analytics 2 for SAS Viya: Advanced
The A00-470 training offers an introduction to data discovery, data preparation, and report creation in SAS Visual Analytics. You will-
Learn to use SAS Visual Analytics for SAS Viya for Organizing content in SAS Drive.

See and interact with reports using SAS Visual Analytics.

Check and investigate data in SAS Visual Analytics.

Prepare data using SAS Data Studio.

Perform data discovery and analysis using SAS Visual Analytics.

Create interactive reports using SAS Visual Analytics.
Preparation Tips to Pass the A00-470 Exam:
Explore the A00-470 Exam Structure and Make A Study Schedule:
Once you make up your mind regarding the A00-470 exam, you should devote quality time to visiting the official page. The official page contains the essential details regarding the exam content, books, and training. Once you visit and explore these details, making a study routine becomes easy. A study routine helps you cover the syllabus topics systematically within a specific time.
Complete the A00-470 Syllabus Topics:
Having a firm grip on the SAS A00-470 syllabus topics is essential if you want to pass the A00-470 exam on your first attempt. Focus on learning each section from the core, as you will face not only multiple-choice questions but also short answer-based questions. Therefore, your preparation should be of that level, where you can attempt a maximum number of questions and score a 68% mark to pass the exam.
Boost Your Learning with Notes Making:
Only studying won't help you much, as you need to remember the topics and recollect them while you face the actual SAS A00-470 exam. Preparing notes help you in this regard, and you can remember the topics for a longer time and use these notes for revision purpose.
Assess Where You Stand through A00-470 Practice Test:
If you are going to appear for the exam, you must remember the minute details to answer the exam questions successfully. Getting a self-assessment helps you to know where you stand in exam preparation. Therefore, enroll yourself in the online A00-470 practice tests regularly, and assess your preparation level. The best benefit of these time-based practice tests is that you get familiar with time management, and facing the actual A00-470 exam in the exam hall becomes easy. Getting a high score in the practice exams should be your priority, as it will boost your scope to get better marks in the A00-470 exam. Get the insights from the result section, and learn which sections need more of your attention.
Dumps are easily available for the A00-470 exam, but you will miss out on the self-evaluation phase. Therefore, it is always beneficial to rely on practice tests for better preparation.
What Is SAS Visual Business Analytics?
SAS Visual Analytics is a suitable application for data exploration reporting and analytics.
What Are the Benefits of Using SAS Visual Analytics?
Find Out the Important Connections Quickly:
SAS Visual Business Analytics helps quickly spot vital relationships in your data using suggestions and identified related conditions. You can use machine learning and natural language explanations to visualize, find, and narrate stories and insights that are easy to understand and explain. You can find out why something happened, check all options, and uncover possibilities hidden deep in your data. You can highlight key relationships, clusters, outliers, and more to reveal key insights that inspire action.
Stunning Dashboards for Better Understanding:
Make stunning interactive reports and dashboards. Quickly summarize your performance metrics and share them via the web and mobile devices. Front-line staff and executives can quickly interact with and collaborate on insights, slice and dice them to find their answers, and better understand business conditions.
Assess Possible Outcomes:
Easy predictive analytics allows business analysts to assess possible outcomes and make smarter, data-driven decisions without any programming. Smart algorithms cut down the need for manual experimentation. You can work collaboratively with experts to focus on what's most relevant.
Concluding Thoughts:
SAS Visual Business Analytics is highly used in the market for its unique features and benefits. The solution's different use in businesses creates the demand for certified candidates. Therefore, grab the SAS A00-470 certification, and take your career to a new level.