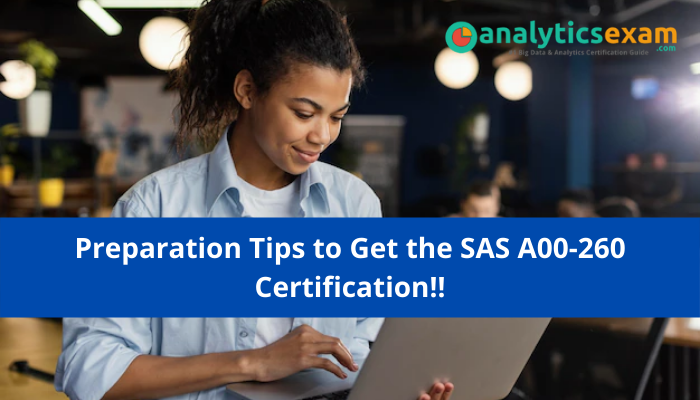 Grab the most practical study tips and practice test materials to ace the SAS A00-260 exam. Learn more about your preparation level and gradually boost your confidence with practice tests.
What Does the SAS A00-260 Certification Exam Check?
SAS A00-260, or the SAS Data Integration Developer certification exam, checks a candidate's ability to apply the skills and knowledge needed for data integration development in the SAS environment.
Successful A00-260 candidates should possess the following skills:
They should define the architecture of the platform for SAS Business Analytics.

Create metadata for source and target data.

Create metadata for jobs and target data.

They must work with transformations.

The aspirants should work with tables and table loader transformation.

Work with slowly changing dimensions.

Define generated transformations.

Deploying jobs.
Who Should Attend the SAS A00-260 Certification?
One must be able to use computer software before jumping to take this certification exam. The suitable candidates for taking the certification are-
Aspirants who want to become data managers and have a strong SAS programming foundation can change data, perform queries and analyses, and create reports.
Aspirants who want to have the skillset for building data warehouse and/or data mart while assuring a high level of data quality and accessibility for business intelligence and data analytics applications can take the A00-260 certification exam. They would be able to offer data to the right place, at the right time, in the right form, to the right person.
What Is the A00-260 Exam Structure?
SAS and Pearson VUE administers the A00-260 exam, and it asks 76 multiple-choice questions. You will have 105 minutes to complete the exam, and you must score a 70% mark to pass the exam. The A00-260 certification exam is based on SAS 9.4 using SAS Data Integration Studio 4.8.
Preparation Tips to Pass the A00-260 Exam:
Learn the Exam Objectives:
Once you decide to take an exam, you must learn about the exam objectives and explore what you are going to study. Knowing the subjects from start to end is essential to study further in a better manner.
Create an A00-260 Study Plan:
Once you have an idea of the syllabus topics, your next task is to make a study plan. Random studies won't help much in exam preparation. Therefore, devote a couple of hours to your preparation process for the next few months. For hassle-free preparation, you must devote at least three months to exam preparation.
Get the Necessary Study Resources:
Multiple resources focus on the exam topics. Get these materials and be ready to study. SAS platform has many dynamic tools for exam preparation. Get the resources and opt for other study materials like sample questions to widen your knowledge.
Enroll Your Name for Practice Test Questions:
Enrolling in A00-260 practice tests could be of much help. The practice test exams offer you the scope to have a real exam-like experience and learn more about your strengths and weaknesses. Thus, you will get to know, which areas are already grasped, and which areas need more of your attention.
Selecting A00-260 dumps is the study material option for many candidates, but they miss out on the self-evaluation method. On the other hand, practicing with A00-260 practice tests help you to get better with time management, and you can improve your knowledge gradually.
Take the SAS Data Integration Studio: Fast Track Training:
You can join the self-paced training to learn more about the certification. You will get the course notes in PDF format and virtual lab time to practice.
What Is Data Integration?
Data integration is the method of consolidating data from different resources in order to produce a unified view of the data.
SAS Aids Data Integration in the Following Ways:
Connectivity and Metadata:
A shared metadata environment offers consistent data definition across all data sources. SAS software allows you to connect to, store, acquire, and write data back to a variety of data stores, applications, streams, and systems on a variety of platforms and in many different situations.
You will be able to manage information in Enterprise Resource Planning (ERP) system, flat files, legacy systems, relational database management systems, message queues, and XML.
Data Cleansing and Enrichment:
Integrated SAS Data Quality software allows you to cleanse, augment, and monitor data to make consistent, reliable information. SAS Data Integration Studio offers a number of functions and implementations that can improve the quality of your data.
Extraction, Loading, and Transformation:
SAS Data Integration Studio allows you to extract, transform, and load data from across the enterprise to have consistent accurate information. It offers a point-and-click interface that allows designers to build process flows, quickly identify inputs and outputs, and make business rules in metadata, all of which allow the rapid generation of data warehouses, data marts, and data streams.
Synchronization and Migration:
SAS Data Integration Studio allows you to migrate, synchronize, and replicate data among different data sources. Data transformations are available for reformatting, altering, and consolidating information.
Real-time data quality integration helps data be cleansed as it is being synchronized or replicated, and you can easily have a library of reusable business processes.
Data Federation:
SAS Data Integration Studio allows you to query and use data across multiple systems without the physical movement of source data. It offers virtual access to database structures, ERP applications, legacy files, text, XML, message queues, and a host of other sources. It helps you to join data across these virtual data sources for real-time analysis and access. The semantic business metadata layer protects business staff from underlying data complexity.
Benefits of Using SAS Data Integration in Projects:
SAS data integration projects have a number of advantages over projects that depend heavily on custom code and multiple tools that are not well.

SAS data integration lowers development time by allowing the rapid generation of data warehouses, data marts, and data streams.

The solution controls data integration costs by supporting code reuse, collaboration, and common metadata.

It enhances returns on existing IT investments by offering multi-platform scalability and interoperability.

It makes process flows that are easily modified, reused, and have embedded data quality methods.
Bottom Line:
Earning the SAS A00-260 certification means you have the necessary skills to work on the subject matter, and it helps you to have a better career. Therefore, earn the SAS A00-260 certification for a better career.