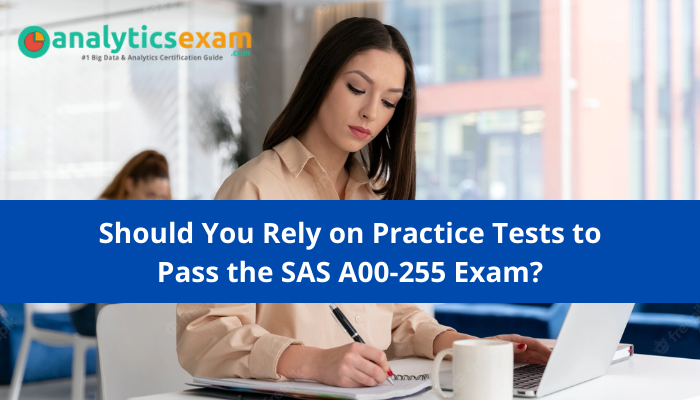 Your SAS A00-255 certification is not challenging anymore!! Study hard strategically, and include practice tests to discover your strengths and flaws for easy success.
What Skills Should You Possess to Have the A00-255 Certification?
The A00-255 certification candidate needs to have a firm understanding and mastery of the functionalities for predictive modeling available in SAS Enterprise Miner. The successful candidates should possess the skills to
Create a new project in Enterprise Miner

Open an existing project in Enterprise Miner

Add diagrams to projects in Enterprise Miner

Connect nodes to create process flows in Enterprise Miner

Change interactive sampling methods for data exploration

Work with the Help functionality within Enterprise Miner

Create libraries within Enterprise Miner

Add nodes to diagrams in Enterprise Miner

Copy nodes within Enterprise Miner
Who Can Take the A00-255 Certification Exam?
The A00-255 certification is most suitable for Data analysts, qualitative experts, and others who want an introduction to SAS Enterprise Miner.
What Is the A00-255 Exam Structure?
This A00-255 exam is administered by SAS and Pearson VUE and comprises 55-60 multiple choice and short-answer-based questions. You will get 165 minutes to complete the exam.
The passing score for the exam is 725, and a score ranging from 200 to 1,000 points is used. Candidates will use SAS Enterprise Miner to perform this exam.
What Are the Syllabus Domains within the A00-255 Certification?
The A00-255 exam covers the following domains-
20-25% – Data sources.

35-40% – Building predictive models.

25-30% – Predictive model assessment and implementation.

10-15% – Pattern analysis.
Preparation Tips to Pass the A00-255 Certification:
Learn from the A00-255 Training:
The A00-255 training course covers the skills needed to assemble analysis flow diagrams using the vast toolset of SAS Enterprise Miner for predictive modeling (decision tree, regression, and neural network models) and pattern discovery (segmentation, association, and sequence analyses). The A00-255 training is suitable for SAS Enterprise Miner 5.3 up to 15.1. The classroom training is 3 days long; you can choose your method of e-learning or classroom learning, depending on the time you have.
Complete the A00-255 Syllabus Topics:
Having a firm grip on the SAS A00-255 syllabus topics is essential if you want to pass the A00-255 exam on your first attempt. Focus on learning the higher percentage section from the core, as you will face both multiple-choice and short answer-based questions. The Building predictive models and Predictive model assessment and implementation sections cover most of the syllabus domain. Therefore, put more effort into these two sections.
Notes Making Boosts Syllabus Covering:
You must remember the syllabus topics you learn throughout the preparation, as you need to face both objective and descriptive questions during the exam. Writing practice while studying and preparing notes help a candidate in this regard.
Gauge Your Preparation Level with A00-255 Practice Test:
Once you decide to appear for any exam and want to ace it on your first attempt, remembering the minute details is essential. Having a self-assessment helps you learn more about your strengths and weaknesses, and practice tests are one of the best resources. Therefore, enroll yourself in the online A00-255 practice tests and regularly assess your preparation level. The practice exams are highly beneficial for familiarizing you with the timed exam structure, and facing the questions on the actual exam becomes easy. You must always try to score high in the practice exam attempts, as it will make you confident about your preparation level. Follow the result section as well to get valuable insights regarding the sections you lack.
Why Should You Get the SAS A00-255 Certification?
Earning the SAS A00-255 certification allows you more to explore the benefits of SAS Predictive Modeling. SAS Predictive Modeler empowers business analysts and subject-matter experts with easy-to-use qualities for quickly generating their own predictive models based on their specific scenarios and demands. The solution helps a wide range of individuals to use and benefit from predictive models without having to always depend on a potentially limited pool of advanced analytic resources.
SAS Predictive Modeler automatically guides the users through a behind-the-scenes workflow of data preparation and data mining tasks to generate reliable predictive models. Now, Business users can create predictive models based on their requirements, derive on-demand insights and act on them to solve business problems faster and effectively.
Benefits of Using SAS Predictive Modeler:
SAS Predictive Modeler allows business users with an easy-to-use tool to generate predictive models so they can add instant value to their organization without always depending on statistical and data mining experts.

The solution allows business users without advanced statistical expertise to use predictive analytics to meet business goals. SAS Predictive Modeler aids users through the process of generating predictive models in a fraction of the time and saves manual time and effort.

The user can solve various business issues, including customer segmentation, up-selling and cross-selling, campaign management, customer acquisition, and churn. Knowing the customers enables you to make smarter decisions.
Bottom Line:
SAS Predictive Modeler sets a new mark in bringing the power of predictive analytics to business users to let them act with confidence and make better decisions. Grabbing the SAS A00-255 certification thus empowers you with different skills for a better job role.