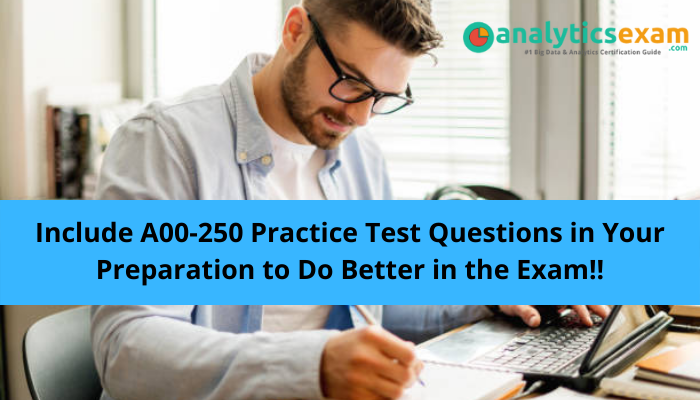 A strong base in the A00-250 exam preparation could help you earn the certification fast. You can follow a study guide, solve exam questions and practice tests and boost your confidence.
Who Should Take the A00-250 Certification?
The A00-250 certification is suitable for those who have the knowledge and skills necessary to administer the platform for SAS Business Analytics. The aspirant must have a fundamental level of SAS knowledge.
Successful A00-250 Candidates Should be able to:
Establish connectivity to data sources.

Set up and secure metadata folder structures.

Administer repositories and move metadata.

Understand the interaction between SAS servers and operating systems.

Monitor server activity and administer logging.

Establish formal, regularly scheduled backup processes.

Add users and manage their access.

Check status and operate servers.

Secure the SAS configuration on each server machine.
Preparation Tips to Pass the A00-250 Certification Exam:
You Must Join the A00-250 Training:
This is a four-day course in SAS 9.4 administration for students needing an in-depth introduction or a refresher to manage a SAS 9.4 environment. The self-study e-learning includes:
Manage groups and users in the SAS Metadata Server.

Secure metadata content.

Navigate the SAS 9.4 architecture.

Start, stop, and check the status of SAS 9.4 servers and services.

Configure server logging to cope with monitoring and debugging.

Set up access to data for analysis and processing.

Monitor your environment with SAS Environment Manager.

Annotatable course notes in PDF format.

Virtual lab time to practice.

Learn how to manage access to SAS client functionality.
Have Complete Grasp on the A00-250 Syllabus Topics:
Visit the official A00-250 page for valuable information, books, and blogs when you start your preparation. It is crucial to get the proper resources to pass the SAS A00-250 exam. Follow the study guides that would cover the complete exam topics. Make a study schedule to target a few topics daily and learn them from the core.
Do not forget that daily studying plays an important role in keeping you stress-free. Think and plan how you want to cover the syllabus topics and work accordingly. Always stay realistic about setting your study hours. Most candidates fail to study for a long stretch, and their productivity is also reduced due to longer study time. Therefore, devote two hours daily and learn the topics better through reading and note-making.
Solve Exam A00-250 Questions:
You must explore other study resources like SAS A00-250 exam questions or sample questions. SAS provides a few of them on its official page, and you can explore more questions from other online resources.
Join Study Groups or Forums:
Preparation always becomes positive if you keep the path open to share your knowledge and learn from others. There are many open platforms and groups where you get the scope to discuss the SAS A00-250 certification exam. Join any of the groups and exchange your knowledge with like-minded people.
Level Up with SAS A00-250 Practice Tests:
If you are getting ready for a multiple-choice, you must continuously assess yourself and level up. A00-240 practice tests are the best study materials that help you properly assess by providing valuable assessment. While solving these A00-250 practice tests, you will become familiar with the exam structure, and your time management will get better. You might feel it a bit difficult to attempt the A00-250 practice questions at the beginning, but take them as learning and transform your weaknesses into strengths.
Overview of SAS Platform Administration:
Platform administration means installing and maintaining the platform and ensuring that it is working in sync with the IT infrastructure.

SAS platform administration accustomed your SAS platform to the overall IT infrastructure. Professionals in this position often work as the bridge between the SAS platform, business users, and the IT department.

SAS administration means a wide range of responsibilities. These include testing and upgrading the platform, assessing the software for fixes, finding disk space for permanent data, analyzing results, and making documentation for the platform.
How Does It Benefit Businesses?
SAS platform administration is essential for businesses because it ensures that the platform is well-optimized. The platform makes sure that issues don't clog data collection and analysis. If the administration services are not done properly, multiple problems compromise the quality of findings and disturb operations.

When platform administration services are properly used, it leads to multiple business benefits, like reduced operating costs, data analysis, and more relevant, actionable feedback.

SAS platform administrators take care of the overall health of the platform because they are needed to fulfill a variety of maintenance services. Without the platform administrators, it would be difficult to keep the platform in optimum condition to generate insights that would help to do business operations.
Bottom Line:
SAS administration is an important factor, so finding the right person who can help optimize the platform is very important. The ideal administrator will understand the SAS platform and will have the business knowledge to understand how the organization works. Having a certification could help to boost your knowledge and manage platform administration better. Therefore, get the SAS A00-250 certification and improve your career path.