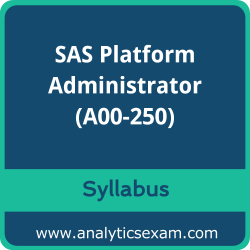 This page is a one-stop solution for any information you may require for SAS Certified Platform Administrator for SAS 9 (A00-250) Certification exam. The SAS A00-250 Exam Summary, Syllabus Topics and Sample Questions provide the base for the actual SAS Certified Platform Administrator exam preparation, we have designed these resources to help you get ready to take your dream exam.
The SAS Certified Platform Administrator for SAS 9 credential is globally recognized for validating SAS Platform Administrator knowledge. With the SAS Certified Platform Administrator Certification credential, you stand out in a crowd and prove that you have the SAS Platform Administrator knowledge to make a difference within your organization. The SAS Certified Platform Administrator for SAS 9 Certification (A00-250) exam will test the candidate's knowledge on following areas.
SAS A00-250 Exam Summary:
SAS A00-250 Exam Topics:
Objective

Details

Securing the SAS configuration

- Secure a SAS platform configuration

Checking the Status and Operation of SAS Servers

- Manage metadata repositories

- Identify the properties and functionality of SAS servers

- Configure

a SAS

Metadata server cluster

Monitoring, Logging, and Troubleshooting SAS Servers

- Administer SAS server logging and modify logging configurations

- Troubleshoot basic SAS server issues

Backing Up the SAS Environment

- Back up the SAS environment

- Restore the SAS environment

Administering Users

- Manage connection profiles

- Register users and groups in the metadata

- Give users access to processing servers and data servers

- Determine when to store passwords in the metadata

Administering Data Access

- Register libraries and tables in the metadata

- Troubleshoot data access problems

- Use the metadata LIBNAME engine

Managing Metadata

- Identify how the metadata authorization layer interacts with other security layers

- Identify where, how, and to whom metadata permissions are assigned

- Determine the outcome of metadata authorization decisions

- Use metadata permissions to secure metadata

- Create and use Access Control Templates

- Promote metadata and associated content
The SAS has created this credential to assess the knowledge and understanding of a candidate in the area as above via the certification exam. The SAS Platform Administrator (A00-250) Certification exam contains a high value in the market being the brand value of the SAS attached with it. It is highly recommended to a candidate to do a thorough study and also get a hand full of the practice to clear SAS Certified Platform Administrator for SAS 9 exam without any hiccups.