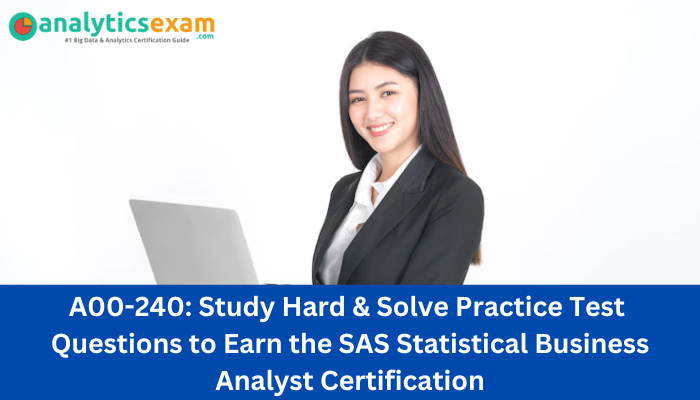 You must solve A00-240 practice test questions to pass the 60 questions long SAS Certified Statistical Business Analyst Using SAS 9 exam and obtain 68% marks or more. This blog explains some of the practical study tips to ace the exam.
Who Is the A00-240 Certified Business Analyst?
A00-240, the SAS Certified Statistical Business Analyst, is an individual who demonstrated the ability to use SAS/STAT software to execute and interpret complex statistical data analysis. They are skilled in tasks like preparing inputs for predictive models, analysis of variance, linear and logistic regression, and measuring model performance.
What Objectives Are Tested During the SAS A00-240 Exam?
Five major domains are tested during the A00-240 certification exam. Here are the following-
10% – ANOVA.

20% – Linear regression.

25% – Logistic regression.

20% – Prepare inputs for predictive model performance.

25% – Measure model performance.
How Should You Prepare for the A00-240 Certification Exam?
Business analysts come from different backgrounds and fulfill other demands to offer the best business results for their organization. You must have the best material support to pass the A00-240 exam and make your place in the transformative business world.
Explore the Official Page:
You must have the proper study resources to pass the A00-240 exam in no time. SAS A00-240's official page details the most relevant study materials. You must know about the syllabus domains to attempt the multiple-choice exams, and preparing from the online SAS Certification Preparation Guide solves the issue. You can study from the online book from anywhere at any time. When your materials are online, studying becomes convenient.
Join the SAS Training:
SAS offers the following training to prepare for the A00-240 exam-
Statistics 1: Introduction to ANOVA, Regression, and Logistic Regression

Predictive Modeling Using Logistic Regression
There are options for the classroom, web classroom, and e-learning training. Avail of any of the training for better results in the A00-240 exam. The first training focuses on t-tests, ANOVA, and linear regression and includes a brief introduction to logistic regression. Predictive Modeling Using Logistic Regression is a four-half-day classroom training to select variables and interactions, record categorical variables based on the smooth weight of evidence, assess models, treat missing values, and use efficiency techniques for massive data sets.
Follow the SAS Youtube Links:
In the digital era, it is not difficult to get online resources. SAS offers youtube videos for improving your knowledge. Therefore, go through the video materials to break the monotony of preparation.
Practicing Is Must with A00-240 Practice Tests:
The most challenging thing about multiple-choice exams is time management during the exam and attempting all questions. You can go through the sample questions offered by SAS or practice with the free materials. There are paid practice test questions, too, that help immensely to turn your weaknesses into strengths through continuous practice. Therefore, trust the A00-240 practice tests and improve your exam acing skills.
Stay Consistent with Your Study Plan:
Making a study plan helps cover the syllabus domains within a specific time and stay organized. For best results, follow the study plan consistently till the exam day.
Who is a Business Analyst?
A business analyst studies a company's operating procedures, other methods, and large data sets and finds ways to improve an organization's operational efficiency while offering better performance. Although they are also known as management analysts, they are way more different than Data Analysts.
Business analysts work with management to reduce inefficiencies and reduce costs. They play a vital role in boosting an organization's competitiveness in the modern business world. They utilize their analytical skills to understand and apply data-focused methodologies best suited to increase a company's bottom line.
What Should Be Your Qualification to Become A Business Analyst?
Business analysts should possess a bachelor's degree to enter the work field in an entry-level position. Employers seek candidates with a degree in some business discipline, such as business analytics, business information systems, business administration, logistics, statistics, sociology, political science or finance.
What Might Be Your Job Roles Being A Business Analyst?
As an A00-240 certified, you must work within the company to identify improvement scopes in business operations and processes.

You should help modify or design existing business systems for better outcomes.

Get in touch with business stakeholders and subject matter experts to better find solutions to their problems.

Gathering documents and analyzing the company's needs and requirements would be one of your tasks as an A00-240 certified professional.

Business Analysts need to design technical solutions to solve company problems.

They must coordinate with system architects and developers to ensure the system is working properly and implemented correctly.
Is It Worth Becoming A Business Analyst?
Business analysts are found in all kinds of industries, including government agencies, businesses of all types, and nonprofit organizations. Companies specializing in finance, accounting, investment banking, and market research also offer major opportunities for business analysts. While any industry can benefit from Business analysts, IT-related firms and management consulting firms get the most benefit.
Bottom Line:
A career as a Business Analyst can take you in many different directions. You must discover your options and get training, experience, and certification opportunities that will take you to better careers and organizations. Therefore, study hard and earn the A00-240 or the SAS Certified Statistical Business Analyst Using SAS 9 - Regression and Modeling certification.