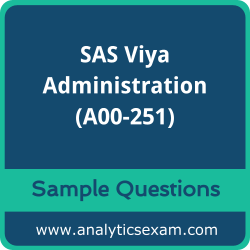 Here are the sample questions which will help you be familiar with SAS Certified Specialist - Administration of SAS Viya 3.5 (A00-251) exam style and structure. We encourage you to try our Demo SAS Viya Administration Certification Practice Exam to measure your understanding of exam structure in an environment which simulates the Administering SAS Viya 3.5 Certification test environment.
To make your preparation more easy for Administering SAS Viya 3.5 (A00-251) exam, we strongly recommend you to use our Premium SAS Viya Administration Certification Practice Exam. According to our survey with certified candidates, you can easily score 85% in your actual SAS Certification exam if you can score 100% in our premium SAS Viya Administration Certification practice exams.
SAS A00-251 Sample Questions:
01. Where would an end user go to update their password for the DefaultAuth authentication domain?
a) My Logins
b) My Credentials
c) Domains
d) Configuration
02. In a highly available SAS Viya 3.5 environment, which service can only be deployed on one host?
a) operations
b) pgpool
c) postgres
d) rabbitmq
03. A new Ansible playbook needs to be created for which scenarios?
a) applying new license
b) applying hotfixes
c) adding Viya product
d) adding servers to inventory.ini
04. You need to move CAS_DISK_CACHE after the deployment has completed. Which file do you modify to ensure the change persists when you run upgrades?
a) casconfig.lua
b) casconfig_usermods.lua
c) node.lua
d) node_usermods.lua
05. Access to an external database is with the account 'databaseusers' no password is needed. To save this user ID for use by end users what type of domain should you use?
a) authentication domain
b) connection domain
c) encryption domain
d) database domain
06. The producer services in the operations infrastructure place their results in a location managed by which server?
a) Message Broker
b) Configuration Server
c) Secrets Manager
d) Infrastructure Data Server
07. When promoting content, which statement about mapping files is NOT true?
a) They map resources in the source environment to related resources in the target environment.
b) They are created from the content of packages and then used as input to the import process.
c) They can be stored in JSON or XML format.
d) SAS Environment Manager can only process JSON format mapping files.
08. By default, how often is the identities service synchronized with the LDAP server?
a) Every 12 hours
b) Every 24 hours
c) Every 1 hour
d) Every 4 hours
09. Which statement is TRUE about the SAS Compute Server?
a) It is hosted by the embedded web application server.
b) It is started by the SAS Object Spawner.
c) It uses the IOM protocol to interact with other servers and services.
d) It is used by SAS Studio Enterprise.
10. When copying the Sample:Import cas-shared default Public data job, what would you modify?
a) Change the filter for input file types.
b) Change the import task to load CAS tables task.
c) Change the output data file type from SASHDAT files to SAS7BDAT files.
d) Change the input caslib and output caslib.
Answers:
| | | | |
| --- | --- | --- | --- |
| Question: 1 | Answer: b | Question: 2 | Answer: a |
| Question: 3 | Answer: b, c | Question: 4 | Answer: b |
| Question: 5 | Answer: b | Question: 6 | Answer: a |
| Question: 7 | Answer: c | Question: 8 | Answer: a |
| Question: 9 | Answer: d | Question: 10 | Answer: a, d |
Note: Please write us on feedback@analyticsexam.com if you find any data entry error in these Administering SAS Viya 3.5 (A00-251) sample questions.