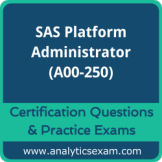 SKU: A00-250
With the purchase of this product, you will gain access to following for 2 months, Unlimited attempts.
1. SAS Certified Platform Administrator for SAS 9 Premium Practice Exam - Full Version
Questions:- 70 multiple-choice and short-answer questions

Time L

imit

:- 110 Minutes
2. Free update with latest real SAS Certified Platform Administrator certification exam questions
This Premium practice exam will give you the feeling of real SAS certification exam environment with exam time limit and random selection of questions from premium question bank of www.analyticsexam.com
For Better Result: As we offer unlimited attempt for the full version of SAS Certified Platform Administrator Practice exam - A00-250, we recommend strongly to practice as much as possible and before your actual exam. Your continued practice helps you to score outstanding in your actual A00-250 exam.
Premium SAS Certified Platform Administrator Questions bank contains 130+ questions, Premium Practice Exam will populate questions randomly from this question bank. All the questions from premium question bank will be covered easily in 3 to 4 practice exam attempts. However the more you practice, the best will be the result in real exam.