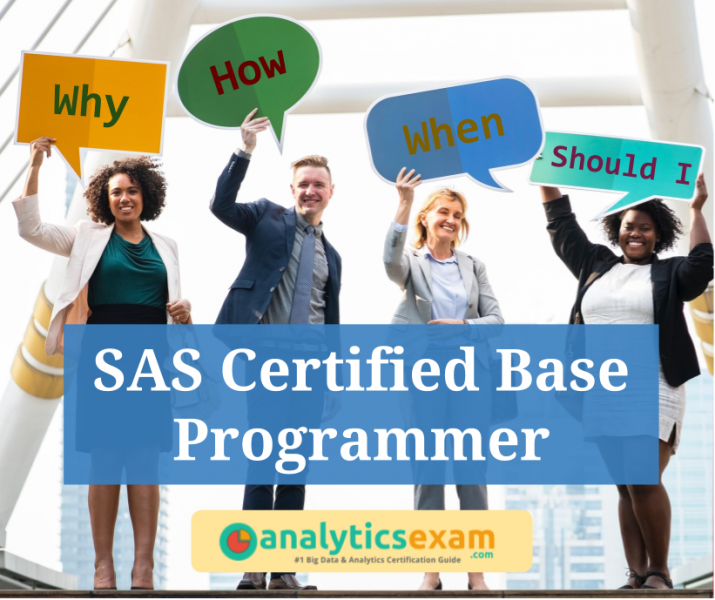 Base SAS certification is officially known as "The SAS Certified Base Programmer for SAS 9 credential" is a certification for beginners in SAS programming. This certification requires knowledge and experience of SAS ver 9.3 and is one of the essential requirements for many other advanced SAS certifications.
The SAS Foundation has been offering various certifications in SAS based analytics for many years now. Till date, the SAS certifications are the most recognized credential in analytics. There are many different SAS certifications on offer.
The SAS, also known as the Statistical Analysis System is basically, a collection of software products, offered by the SAS Institute. These offerings primarily enable the user to perform a wide variety of tasks that cover almost every aspect of the business landscape. Working as a one-stop shop location for performing a host of activities, is what makes for the most prominent advantage of a SAS Certification. The SAS programming tool helps a professional, to perform a host of functions from, information system support, and customer care products to even human resources management. This makes studying for the SAS Certification all the more worthwhile, mainly due to its wide scope of applications.
Here's a list of reasons to become SAS certified:
Improve your skills and expertise simply by going through the process of preparing for a SAS exam. Even long-time SAS users say they benefited from the exam preparation experience.

Industry validation of your SAS skills and expertise.

Increased credibility with your employer as a technical professional committed to personal growth.

A boost to your earning power.

When you earn a SAS credential, you also earn a digital badge, that you can share documenting your accomplishment.

SAS credentials are job-role focused, meaning immediate relevancy to

real-world

needs.

SAS skills are in high demand around the globe (just check out a major job board site in your region and type in 'SAS').

Defined training paths and certification training packages make preparation more accessible and affordable.

SAS certified individuals can qualify for discounts on other SAS training.

SAS certified individuals can be listed in the Directory of SAS Certified Professionals which can be easily accessed by employers to validate your credentials.
Base SAS certification is usually considered helpful in securing an entry-level job in analytics. However, there is debate over how much useful it really is. The certification is a decent assessment of a person's SAS programming skills. However, it does not cover a number of non-SAS related skills that are essential for a business analyst. Here is a link to an interesting debate on
The certification tests the participants' knowledge on these broad topics
Getting data in and out of SAS

Manipulate and transform data

Combine SAS data sets

Create summary reports using SAS procedures

Identify and correct data, syntax and programming logic errors.

To earn this credential, you must pass the SAS Base Programming for SAS 9 exam.
How to prepare for Base SAS certification?
If you are an experienced SAS analyst and want to get a feel for the kind of questions asked in the test, you can explore the SAS website (https://www.sas.com/en_us/certification.html). There are only 5-6 questions for each certification so it is not a comprehensive list but it gives you an idea of what to expect in the exam.
If you need more preparation for the exam, the easiest (but very expensive) option is to take one of the many training programs offered by the SAS Institute or one of its certified partners. A two weeks SAS training boot-camp by the SAS institute costs around 1500 USD. It includes one complementary attempt of Base SAS Certification Exam.
You can also buy one of the many books available from the SAS Institute that can help you prepare for the exam. But given the nature of the exam, learning by books only may not be the best option, here you should be mixing the best option of testing the knowledge acquired by self-studying on one of the most popular practice test exam platform https://www.analyticsexam.com/sas-certification/a00-231-sas-certified-specialist-base-programming-using-sas-94
How to
enrol
for the Base SAS certification?
You can register online for the exam – http://support.sas.com/certify/creds/bp.html#t2
Or register for the exam by calling this number – +91-124-4517160 (Monday – Friday, 9:00 to 17:30).
The exam fee is $180.
Follow these easy steps once on the site:
First-time users:
First-time users must create a new web account within Pearson VUE before registering for a SAS exam.
It can take up to two business days to receive your username and password, which you will need for exam registration.
Returning users:
If you already have a Pearson VUE account but have forgotten your sign-in information, follow the links on the Pearson VUE site to retrieve this information.
Additional Information:
Registrations cannot be done at a test facility.
Exam registrations must be completed at least 24 hours in advance.
Exam Structure
Exam Code: A00-231
No. of questions: 40-45 multiple-choice
Duration of exam: 135 minutes
Passing score: 72%
All the best!