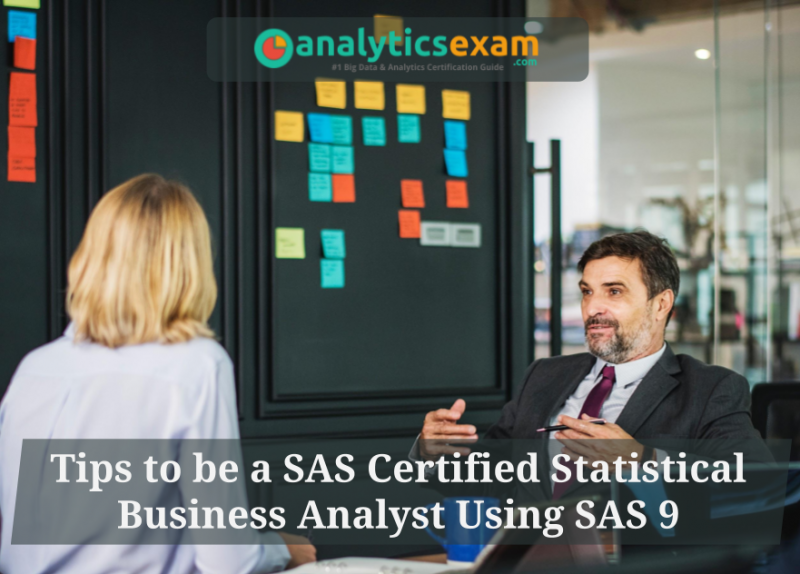 SAS Institute Inc. provides analytics software products and solutions. It serves automotive, banking, capital market, casino, communication, consumer good, defence and security, government, healthcare, health insurance, high-tech manufacturing, higher education, hotel, insurance, life science, manufacturing, media, midsize, oil and gas, education, retail, sports, travel and transportation, and utility industries worldwide. The company was founded in 1976 and is based in Cary, North Carolina with locations in Africa, Europe, the Middle East, the Americas, and the Asia Pacific.
For individuals who use SAS/STAT software to conduct and interpret complex statistical data analysis. The credential focuses on linear and logistic regression techniques used to create predictive models.
Initial Requirements:
You must pass the SAS Statistical Analysis Using SAS 9: Regression and Modeling exam ($180). The exam exam consists of 60 scored multiple-choice and short answer questions and has a 2-hour time limit. Passing score is 68%. Topics covered included ANOVA, linear regression, logistic regression, predictive models, and model performance measurement, among other topics.
Continuing Requirements:
The SAS Global Certification Program now issues versioned credentials that do not expire. The version is indicated in the credential name - for example, SAS Certified Base Programmer for SAS 9.
Skill Level: Intermediate
Status: Active
Exam Code: A00-240
Exam Duration: 120 minutes
Exam Questions: 60 multiple-choice and short-answer questions
Passing Score: 68%
Certification Exam Cost: $180 (shortest track)
The SAS Certified Statistical Business Analyst Using SAS 9 - Regression and Modeling credential is globally recognized for validating SAS Statistical Business Analyst knowledge. With the SAS Certified Statistical Business Analyst - Regression and Modeling Certification credential, you stand out in a crowd and prove that you have the SAS Statistical Business Analyst knowledge to make a difference within your organization. The SAS Certified Statistical Business Analyst Using SAS 9 - Regression and Modeling Certification (A00-240) exam will test the candidate's knowledge on following areas.
Tips to Pass the SAS Statistical Business Analyst Certification (A00-240)
No.1. :- Take the Getting Certified Plan Seriously
This is one thing we noticed many time among the certification aspirants, as most of them has that running back of their mind on getting their selves certified but never get it done as they do not take this plan seriously and that is why they never allocate special study and preparation time. Many a times, it is even noticed that aspirants directly jumped and appear for the exam and in this case they fail the exam in 95% cases, this experience will further work as a hurdle.
So our first and most important advice is to take your certification seriously and come up with a proper plan with dates, this will help you for sure.
No. 2. :- Register for a study class
This is very much required, you should register for preparation classes either online or off line, but this will for sure help you improve on subject you are planning to get certified. If possible, take only choose only those training institutes which are either approved by SAS or has a very good track record.
No. 3. :- Register for a Practice exam and do daily practice.
This is a proven methodology from centuries. Once you think you are well equipped with the subject and your training is about to over, register with the best practice exam providers and start taking the practice exam, if possible, take daily two or at least one. Which every practice test you are taking, you will be knowing where exactly you are standing on the study path. You can identify your weak areas and improve those. Right now www.analyticsexam.com is the best and number one Practice exam provider for all the SAS Certifications, especially they have great track record with their Premium Practice exam for SAS Statistical Business Analyst Certification
No. 4 :- Continue practice until you appear for your final certification exam
Do not take any gape in practice until you give your certification exam and pass, this is very importance as that gape can take you down and you may scoreless then what you actually can if you continue your practice until your finals. Allocate specific time daily to do practice and once you start getting 95 or more score on almost all practice exam you are taking, you are ready for the final, do not wait anymore and just go for the certification exam.
Some useful Links
,
Exam Registration : Pearson VUE
Sample Questions : SAS Statistical Business Analyst Certification Sample Question
Syllabus : SAS Statistical Business Analyst Certification Full Syllabus