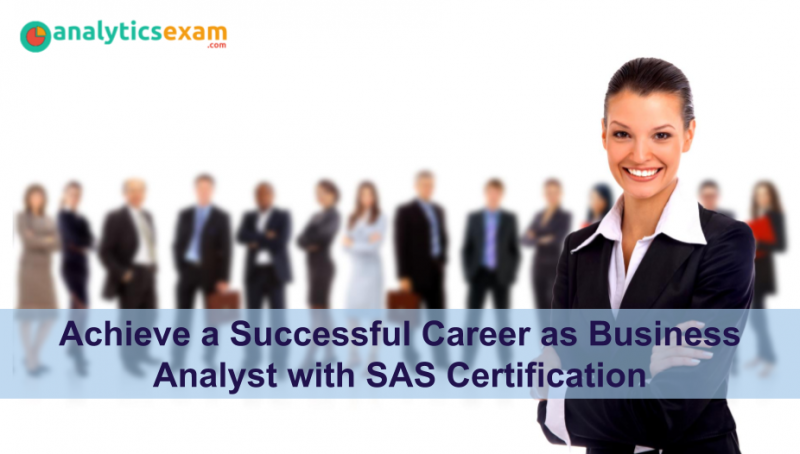 SAS, which stands for Statistical analysis tool is a Business Intelligence tool that is used for data mining and analysis, reporting, predictive modeling, and econometric and time series analysis. As per an IDC (International Data Corporation) report, SAS has a 35% market share, more than double its nearest competitor, this itself the biggest reason to go for a SAS certification over any other big data or analytics certification. According to DexLab survey 2016, 69% of all business will hire SAS experts in the coming year, now this will be the second booster to the primary thought of go for the SAS Base Programmer Certification. The spread uses and accuracy of the SAS software has helped become SAS Labs and its software a second name of an Analytics, actually is has become synonyms. More than 90% of Fortune 500 companies use the SAS software making it one of the most powerful tools for data analysis. One can break into a career in SAS analytics by pursuing Base SAS certification.
Base SAS Certification
The SAS Base Programming Exam is required to obtain certification as a SAS Certified Base Programmer. This exam is also a pre-requisite for the advanced programming certification track. This certification equips you to query databases and perform analysis, including importing and exporting raw data files, manipulating data, combining SAS data sets and creating reports. A fast seek for "SAS Base programmer" on the main job posting websites will return a whole lot, if not hundreds of open positions throughout the USA, most with beginning salaries in a variety from $70,000 to $110,000 USD. More specialized certifications, particularly these involving statistics and modeling, can drive the annual wage to over $130,000.
The Foundation Tools, SAS Base Programmer credentials are geared toward analysts, knowledge managers, programmers, and the like whose work days revolve around writing and managing SAS packages, 25 subtopics are given within these five categories as below:
Accessing Data
Creating Data Structures
Managing Data
Generating Reports
Handling Errors
Link to the full syllabus for SAS Base Programming (A00-231) Certification Exam
This certification is a good track to start with SAS. Also, the Base certification is the only certification in SAS which is recognized globally and the certificate returns really good. Full details about the exam and its details, as well as The Practice tool, are very important for clearing the SAS Base certification.
Eligibility to Pursue Base SAS Certification
SAS courses require no formal education in analytics. Any graduate can undergo this course irrespective of age. However, a minimum of one year of experience in analytics is a must if you're undergoing this course. While there is no specific educational background required, a degree of proficiency in utilizing SAS Proc SQL, SAS Macro, Unix, Linux, and other SAS programs, familiarity with various web application tools and Windows programs, excellent problem-solving and analytical skills and advanced mathematical abilities, can ease the path to certification. Many schools and universities, similar to Philadelphia University, Florida State University and the University of Missouri, to call only a few, additionally supply a SAS certificates program to their undergraduate and graduate college students. For those who're in (or considering of going to) faculty, and are excited by SAS, take a look at your choices as well.
Advantages of Base SAS Certification
This certification will open doors of opportunities and enables you and demonstrate your SAS skills and expertise, which in turn helps you get great career opportunities in the field of analytics.
Improve your skills and expertise by going through the process of preparing for a SAS exam. Even long-time SAS users will benefit from the experience.
This certification gives you credibility with your employer as a technical professional committed to personal growth and has strong SAS software understanding.
Job prospects for SAS professionals improve phenomenally with the certification. This leads to increased marketability if you are looking for a job.
Since the entire structure of the certification is narrated keeping in mind industry application, SAS credentials are job-role focused and offer immediate relevancy to real-world requirements.
SAS skills are in high demand around the globe so your career can take a flight to advancement.
Base SAS certified individuals or for that matter, any SAS certified individuals are listed in the Directory of SAS Certified Professionals which can be accessed by employers to validate your credentials.
A quick search for SAS programmer on the major job posting sites will return hundreds of matching results, if not thousands of open positions across the United States, with most starting salaries in the range of $70,000 to $110,000 USD. More specialized certifications, especially those involving statistics and modeling, can drive the annual salary package to over $130,000. (Source: Forbes)