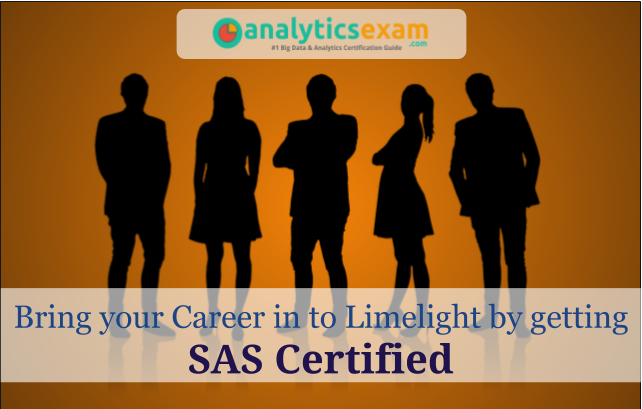 SAS is the globally recognized analytics software provider and it has helped many organization across the globe in achieving their targets and desired results. When the organization grow with the help of such a sophisticated product, it is obvious that those organizations need people and engineers. So ultimately, SAS has provided many professional opportunities to those who have preferred to choose SAS software-related career. SAS has many professional certificates to award to those professionals who successfully demonstrate their SAS skills at the SAS certification exams.
Now when these SAS certificates and degrees offered by the SAS Institute are so importance for those seeking a career in the SAS technology-related fields, at the same time, those all certificates are very much important for SAS Institute as well. Why, as it is connected with overall SAS performance. If the industry is not having enough SAS professionals to support the existing and new organization using or adopting the SAS technologies.
The SAS Institute is there and offering many learning opportunities to many in in one or other way, they organize events, keep the community platform most convenient for all to start and get their all queries answered in a positive way and overall keep the movement going. SAS has even free education programmers for students, say, SAS Software Certified young Professionals. SAS is offering students access to software, training and certification for free.
SAS has even worked hard to keep their certification updated and as per the overall demand of the industry, say, they have recently retired their most popular SAS Base Programing and replaced it with the Performance-based all new certification SAS Base Programming Specialist. The idea of bringing the Performance-based certificate was to fulfil the industries requirement by providing most talented professionals in a handpicked manner.
SAS is also planning to replace its second most popular SAS Certified Advanced Programmer with a more relevant and accurate performance-based certificate to meet the overall professional's and more specifically the organization's requirement who are using or adopting the SAS technology.
Most of the SAS Certificates judge candidates ability to deal with the SAS software suite by make them answering 60 to 90 % of objective questions and in some case coding till sometime form now, which they are now increasing the more of coding during the certification exam to meet the new age demand. However, those will not overrule the objective questions as they will dominate for sure.
The opportunities are supper bright for those who are having experience on the SAS analytics field and also for those who are taking SAS as a career. We recommend those all to take SAS certification and get their selves certified as the certification will gross you the most opportunity compare to those not certified.