Accessing SAS was never this easy. "SAS OnDemand" for Academics software, SAS is just a click away! Yes, you hear it right. Now SAS is at your finger tip that too with no installation. Anyone can access SAS software for free by just logging to an SAS website. No installation is required and it's available for everyone - Instructors, Students, and Individual Learners. In short, it's available for everyone for non-commercial use. This is an interesting and important step taken by SAS marketing team to counter competitors such as R and Python. This is just in time when accessing SAS software and learning SAS programming count to be a pain. With this software and SAS University Edition (UE) for free, learning SAS programming is no more a difficult task.
Since it web based and runs on the cloud, it requires a web browser. The following web browsers are supported:
Microsoft Internet Explorer 9+

Mozilla Firefox 14+

Google Chrome 21+

Apple Safari 5+

Mobile - Apple Safari 6+
Please note, You need a good and stable internet connection. The data storage provides up to 5GB for free for all and additional 2 GB data storage for Instructors. If you do not use your account for one year or more, the account may get expired.
Steps to access SAS OnDemand for Academics
Register yourself and create your account by visiting registration page

Submit the required details (first name, last name and Email ID) on the registration page.

You will get an email from SAS team with the link to activate your profile.

You need to enter your email address and password information and accept the license agreement and then click Create Account.

After completing step 4, you will get an email with the subject "You are ready to start using SAS OnDemand for Academics' and user id". Click on the link specified in the email.

Enter your user id and password to log into the software.

Click on SAS Studio link on the dashboard page. See the screenshot below –

Click here for detailed User Guide for SAS Academics
On Successfully finishing above steps, you will land on below screen. Click on the link of SAS Studio as suggested in the picture to get to the SAS Studio.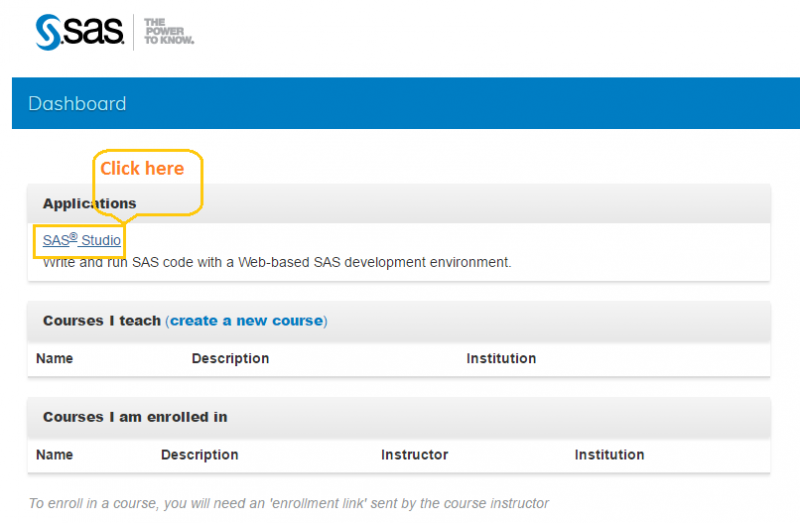 Below is the screen of the SAS studio: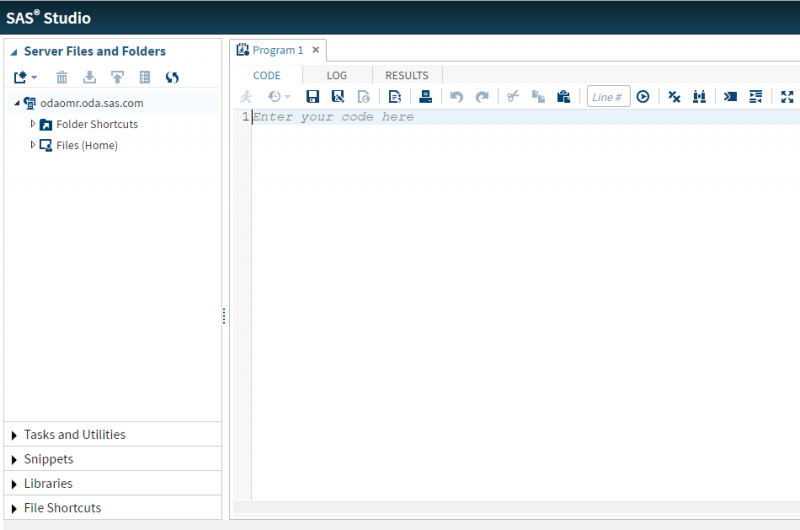 List of SAS software available for FREE
You can access not only Base SAS, SAS STAT modules but also access SAS GRAPH, SAS modules for econometrics (ETS) and operation research (OR). And if you are searching for free SAS 9.4 or free SAS Enterprise Miner, your search is over. You will get the latest version of SAS and popular SAS packages for free.
SAS Studio (Includes Base SAS, SAS STAT, SAS GRAPH, ETS, IML, OR)

SAS Enterprise Guide

SAS Enterprise Miner

SAS Credit Scoring

SAS Text Miner

SAS Forecast Studio

SAS High-Performance Forecasting
If you are a statistician or data scientist, you can practice data mining and text mining techniques with SAS Enterprise Miner and Text Miner for absolutely free.
If you are already using SAS University Edition which is also available for free, you might not find this academic version as useful but there are certain features in the academic software which is not available in the University Edition such as Operation Research module or SAS Enterprise Miner and Text Miner.