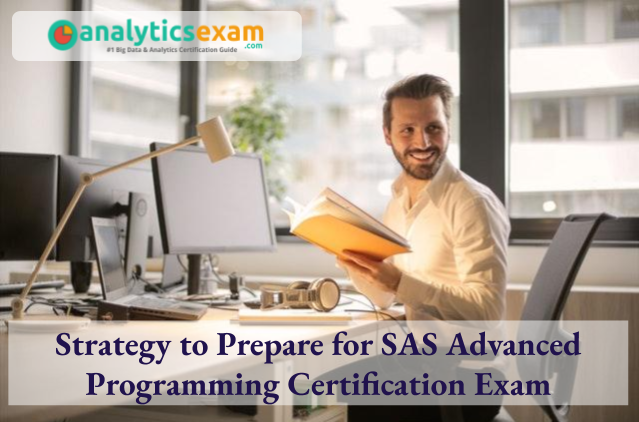 If you are thinking of becoming a certified SAS programmer, you are on the right path to become a shining star in the most in demand industry for the 21st century. However, it a valid concern on how to pass and become a SAS Certified Programmer.
Today we will discuss about how to pass the one of the most in demand SAS certification, and also explain the common but powerful ways to become a SAS certified. Today we will discuss about, the SAS Advanced Programming Certification exam (A00-232). If it is not easy to pass and become a SAS Certified Advanced Programming, it is also not difficult if you follow the below discussed proven techniques. It is common to have concern about how long you need to study to pass the certification exams. Don't worry, the SAS online courses allow you to get certified while attending university or working your full-time job. Learning and preparing for the SAS certification can seem quite daunting from the start. You have to memorize a ton of information the training materials contain. However, this experience is rewarding and worth a shot as you can enhance your skills and the quality of your work. By passing the SAS certification exam successfully, you raise awareness of your programming in a highly competitive environment. Here are several tips which will help the journey of becoming the Advanced SAS certification.
Training Strategy
Just choose the most appropriate way to learn SAS and move forward! You can easily use the following approaches:
1. Tutors-led training (if a highly experienced tutor available nearby);
2. Self-placed learning (take the online courses);
SAS Programming 3: Advanced Techniques and Efficiencies
SAS Macro Language 1: Essentials
3. Solo-study by the certification books.
There are various SAS online courses for the SAS Advanced programming, where the professional instructors will lead you to a unique online experience. If you are thinking about the third option mentioned above, please keep in mind, that studying solo can take a little more time since you should master the complex tasks without tutor support, however you will get help from a healthy community blogs and websites for sure.
Memorization Technique can be utilised
The ultimate way to encode a big chunk of information in your memory is to perceive the underlying logic, argumentation, and connection. At the same time, for information that does not contain any reasoning, using some memory tricks will be helpful. For instance, try to translate the materials you need to remember into a different form that is easier for you to memorize. Thus, the new data can be associated with a bank of knowledge already recorded in your brain. Associating words with visual images is another widely used memorization technique. Moreover, if you are lucky enough to have a photographic memory, then you can combine the text with pictures to recall what you have learned. In spite of the method you choose, don't forget that intense repetition and practical experience are the keys.
Practice by Executing Sample Codes and Programs
The certification exam covers a broad range of statements, options, functions, etc. with the focus on the Data step. You should learn how to access, combine, create, manage, modify, and process various data sets. Get ready for different scenarios on reading data into the Statistical Analysis System. Running the sample codes provided in the books will help you to get an entire understanding of the material. You can write your own code and feel the comprehensive SAS power.
Take the practice test
If you score well on the practice test, it will ease your worries and boost your confidence when taking the actual certification exam. The practice test is a great indicator of your gaps in learning. You will see on what subjects you should focus on most. Take it before you start working on the training materials or after you have read them several times to check if you are indeed prepared for the real exam. The Premium practice exam will give you the feeling of real SAS certification exam environment with exam time limit and random selection of questions from premium question bank created by industry experts. To get the best result from SAS Certified Professional - Advanced Programming Practice exam - A00-232, we recommend strongly to practice as much as possible before your actual exam. Continues practice helps you to score outstanding in your actual A00-232 exam.
Create your learning schedule and stick to it
The best way to get through all the information is to make your action plan before you start preparing. Make sure that you stick to the schedule. Use your favourite gadgets and apps. Thus, you can devote all your available time to preparing the exams and then sit for the certification tests as soon as you feel ready. Hopefully, this article unveils the certification process and gives you a clear vision of how much efforts you have to invest in becoming a certified programmer.
All the Best!