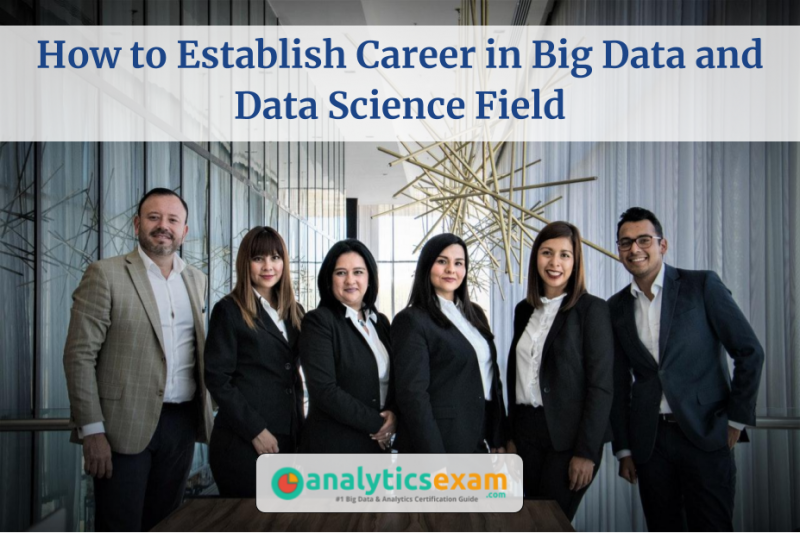 We're living in a time of marvelous opportunity, especially for those who work in the tech industry. With so many evolving technologies, skilled professionals can extend their knowledge to become specialists in several fields or transition into a new field. This is particularly true of Big Data, where the types of jobs are increasing as the rate of data generated each day increases at an amazing pace. Even as we generate unprecedented amounts of data in 2018, IDC predicts we will generate approximately 440 times more information by 2020. All that data must be stored in scalable and cost-effective data platforms, while still being accessed, analyzed, and put to use. And it's the Big Data professionals who make all of that happen, meaning today's organizations have a dire need for Big Data professionals, including data scientists, data analysts, data engineers, and developers, and systems administrators and managers. For those with the right skill set and certifications, the market offers plenty of job opportunities and attractive salaries packages. According to Glassdoor, there are almost 49,000 Big Data jobs that need to be filled, isn't this superbly amazing!
For those who are interested in taking the Big Data domain as a career or move up in the career, a certification is an excellent means to start with. Certifications help potential employers know which job applicants have the necessary skillsets and knowledge to take on specialized roles and tasks.
Why to do a Big Data Certification?
There are many big data related certifications available as on now, and all of them has their merits, however, there are some Big Data certifications, which can offer your career a big boost, whether you're just getting started or you're a seasoned professional.
If you're new to the field, a Big Data certification will get you trained so you can earn a job easily. Those types of certifications can range from the very specific to wide-ranging and generic big data technology related. If you're already working in Big Data, a certification can help you to move up in your career or move into a specialized role.
For example, if you need to know more about a particular aspect of Big Data such as SAS Technology, IBM Data Specialist, and the certification helps you learn the necessary skills, plus give your current or future employer proof of your qualifications.
If you're already in a Big Data role, certifications are invaluable during performance appraisals for demonstrating to your manager that you're proactive about your career and that you can add value to the company, possibly leading to a promotion or a raise. According to a survey conducted by on Certification by a Magazine, 52 percent of survey respondents got an increase within a year of completing a Big Data certification. And that raise was substantial: 62 percent reported receiving raises of 8 percent or more. Moreover, a data architect can earn up to $184,000 per year, and a Big Data engineer up to $196,000, isn't this amazing. According to DataJobs, a data scientist can earn up to $170,000 per year.
Some excellence choices in the Big Data Certification
So now we know certification is a worthy investment in your career, your next step is choosing the type of certification and the provider. When it comes to Big Data certification, your choices are almost as numerous as the many areas of study in Big Data. In addition to education providers who offer certifications, the software companies that create the technology driving Big Data also offer certifications. Below, you'll find the Big Data certifications offered by some of the biggest names in the business such as IBM, DellEMC and SAS. You'll see a wide variety of certifications, and it will give you a sense of the range of options available.
Big Data Certifications from IBM
IBM has been a significant player in the IT field for decades, and the company offers dozens of certifications as a result. One of those are major certifications in the area of Big Data, that is Big Data Architect.
IBM Big Data Architect Certification
A Big Data Architect must have deep knowledge of the necessary technologies and understand the relationship between those technologies as well as how they can be integrated to solve Big Data business problems. Although IBM does not offer specific coursework in preparation for the Big Data Architect certification exam, the website lists detailed information about the skills and knowledge you should have prior to attempting an exam, as well as a list of courses you can choose from. In addition, an assessment exam is available to help you determine your areas of weakness. The exam takes 75 minutes, but no cost is listed.
The Details of Certification C2090-102: IBM Certified Data Architect - Big Data, such as Course Contain (Syllabus), Cost, Preparation Guidance, etc available on the this LINK
Big Data Certifications from SAS
SAS, a global leader in analytics, offers multiple certifications, all with a focus on SAS products only. And SAS has a great market share in the field of Big Data Analytics. This will make the SAS Big Data Professional Certification on SAS 9 one of the best choices.
Big Data Professional Using SAS 9 Certification
This certification is for those professionals who want to validate their ability to use open source and SAS data management tools to prepare Big Data for statistical analysis. This certification requires two exams: SAS Big Data Preparation, Statistics, and Visual Exploration and SAS Big Data Programming and Loading. Training for the exams is available through SAS and administered by Pearson VUE. The SAS website also offers sample questions and practice exams.
The Details of the Certification A00-220 and A00-221: SAS Certified Big Data Professional Using SAS 9 , such as Course Contain (Syllabus), Cost, Preparation Guidance, etc available on the this LINK
Advanced Analytics Professional Using SAS 9 Certification
This certification is for professionals who need the ability to analyze Big Data with a variety of statistical analysis and predictive modeling techniques and tools. This certification requires passing three exams: Predictive Modeling Using SAS Enterprise Miner 7, 13, or 14, SAS Advanced Predictive Modeling and SAS Text Analytics, Time Series, Experimentation, and Optimization. Training for the exams is available through SAS and administered by Pearson VUE. The SAS website also offers sample questions and practice exams.
The Details of the Certification A00-225 and A00-226: SAS Certified Advanced Analytics Professional Using SAS 9, such as Course Contain (Syllabus), Cost, Preparation Guidance, etc available on the this LINK