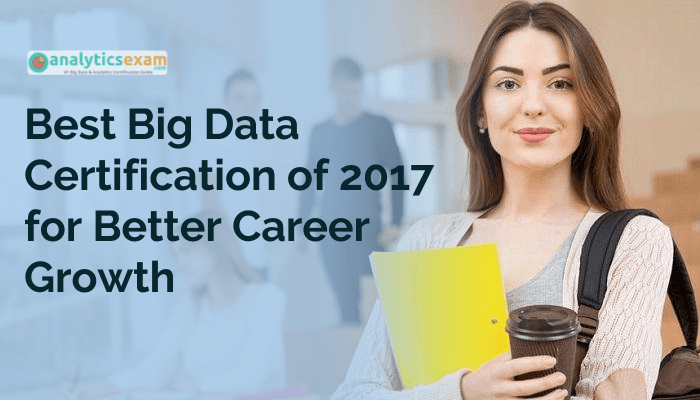 Professional certifications in data science field serve as the ideal way to bridge the gap between academia and industry practices and knowledge. The certificates also provide tangible, third-party proof of your skills and allow you to position yourself right where you need to be for the next big job opportunity or promotion in the current job. As already agreed that the data science certificates are the real gap filler, this stands true for you irrespective of you being a fresh graduate or an experienced job seeker. Also, there is not a good time or bad time to get yourself certified in the field of data analytics.
The Benefits of getting yourself Certified are many, we can list some of them as below,
Big data vendor certifications accomplish a number of things, all of which benefit you and your career in data science:

Data science certifications help

to hire

managers

to know that your skills are up to par with industry standards and that you having met vendor-specific benchmarks.

Data science certifications serve as proof of your commitment to continuous learning.

Data science certifications provide you with a way to distinguish yourself from you peers and stay one step ahead of your competition.

Data science certifications keep your skills marketable and solidify your value to your current or future employer.
There are a number of Data Science certificates available and all have significance, however as we can't go after all certificates, we should choose a certificate fits best for us to fulfill the purpose as some certifications better than others and do hold more weight than others. The certification you choose will depend on a number of factors including your personal career goals, your level of education and training, and your employer's needs. Your decision may be based on a need to brush up on your current skills, learn new skill sets, or get in on the latest technologies in Big Data or Data Science, Business Intelligence, and Business Analysis.
A discussion among colleagues or a quick search of the latest job listings often sheds light on some of the smartest employers are looking for. Employers often encourage their data scientists to pursue vendor certification in specific areas, and many more pick up the cost of the program and exam.
Some of the biggest vendors in data science certifications include IBM, SAS, and EMC, although there are plenty more to choose from.
Here's a list of some of the today's top data science certifications:
SAS
SAS specializes in business analytics software and services, offering a number of credentials in programming, advanced analytics, business intelligence, and information and data management for programmers, administrators, and data analysts working with the SAS platform.
SAS Academy for Data Science offers three bootcamps in data science resulting in certification:
Twelve-week bootcamp focused on big data management, advanced analytics, machine learning, data visualization, and essential communication skills Candidates may take the above certification exams without enrolling in the bootcamps if they already have the requisite skills.
Six-week intensive bootcamp focused on big data management, data quality, and visual data exploration for advanced analytics
Certificates:
Six-week comprehensive bootcamp focuses on analytical modeling, machine learning, experimentation, forecasting, optimization, and critical communication skills
Certificates:
Dell EMC Corporation
Dell EMC Corporation is the one of the best company for data storage systems, as well as cloud computing, visualization, and analytics. Their certification program, EMC Proven Professional Certification, features 12 different certification tracks and multiple credentials, however, one of most popular certificate remains the EMC: Data Science Associate (DECA-DS) and Dell EMC Data Scientist (DCS-DS).
Certification name and code:
IBM
IBM's offering in data science certification is the IBM Certified Solution Advisor – Big Data & Analytics, ideal for demonstrating an understanding of basic concepts related to big data and analytics. Topics covered in the certification exam include big data and analytics solution design principles, architectures, solutions, and processes.
Candidates for this certification should have a working knowledge of big data & analytics design principles, maturity and adoption models, IBM big data and analytics offerings, and the role of corporate and information governance, among others.
Some of the popular certificates from IBM as below: