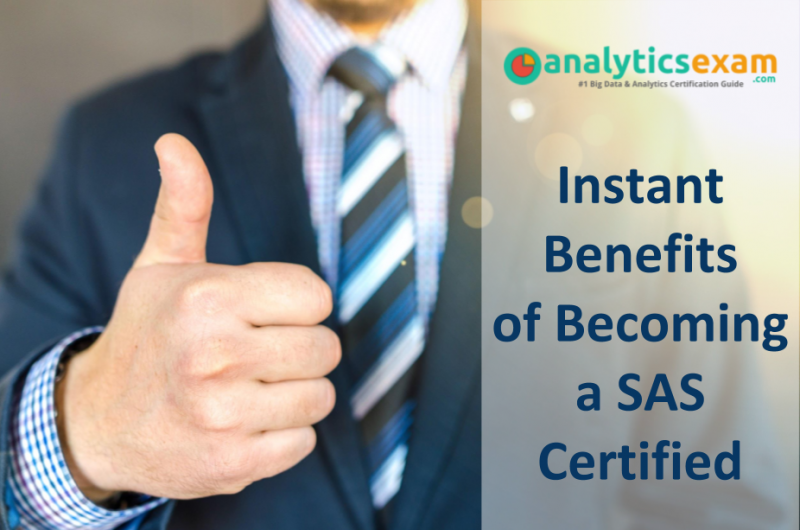 Big Data and Business Intelligence are domains that shall go hand in hand for a long time. BI pioneers SAS, and MapR – The most trusted service provider for Google and Amazon Technologies – have recently signed a pact to further the efficacy of Big Data. This post takes a look at what this new partnership entails for the end user.
SAS Certification
Since inception, the senior management team from SAS has to lead the organization not just producing best products but to make the company the best place to work with an emphasis on culture that balances work and personal life and encourages employees to take leadership. This was noticed by many organizations such as Fortune and the Great Place to Work Institute and they named SAS as the best place to work, also SAS got the fourth rank in Fortune magazine's top 10 list of best companies to work for in 2015. The company's low employee turnover rate is a proof of the above reorganizations & company's commitment to its employees and, indirectly, to its customers as well. From top 100 Fortune Global 500 companies, 91 are SAS customers. SAS customers span the globe with more than 80,000 instances installed in 148 countries.
Benefits of SAS Certification
More Jobs: With both Big Data, and Business Intelligence and Analytics on the rise, US Bloomberg and Forbes report that the two domains shall account for over $6.3 Billion by 2018 in revenue, thereby creating over 1 million jobs in the fields of Data Analytics, Hadoop Programming, Business Analysis, Content Development, etc. So, one may go with the certifications in Big Data, Hadoop administration and others.

High Paying Careers: With Technology conglomerates such as IBM, Microsoft, and SAP course planning to go all out with their BI and Data Analytics strategies, a huge upswing in the average salaries of personnel engaged in these domains is expected. A median salary of $90,000 for non-administrative positions and $120,000 for managerial personnel represents the huge demand foreseen for skilled help in these domains.

Technology Trends: Big Data, along with BI, ranks among the top 5 in technology trends for 2015. BI skills, knowledge, and expertise will be in huge demand over the next few years, and professionals with the requisite know-how are sure to drive immense benefits from the situation.
Business Intelligence and Data Analysis are niche skills and the knowledge goes a long way to ensure successful careers. Gaining top-notch training thus becomes of paramount importance. SAS Certifications Courses are the most renowned authorizations around the Globe today. Professionals holding SAS credentials have proven that they contain the skills and capabilities needed to analyze, report, and intelligently represent the data that these domains depend upon.
Koenig Solutions is an Authorized Training Partner of SAS and has one of the highest course satisfaction ratings in the industry. Come to Koenig for state-of-the-art Training and Facilities, and its revolutionary "Happiness Guaranteed" program.
What is
the SAS
Certification Program
SAS has awarded over 95000 certifications since the program's introduction in 1999.
The SAS Global Certification Program currently offers eleven credentials across five categories:
Foundation Tools
Administration
Advanced Analytics
Data Management
BI & Analytics
The details of SAS certifications, exams, and costs, are described in more details in the following sections. Although experience levels aren't specifically indicated for each certification, a good rule of thumb is a minimum of eight months of experience on the base SAS system for Base Programmers and two to three years of relevant, hands-on experience for all other certifications before attempting the exams. All exams are administered by Pearson VUE or a SAS-sponsored certification exam session (typically in conjunction with training courses).