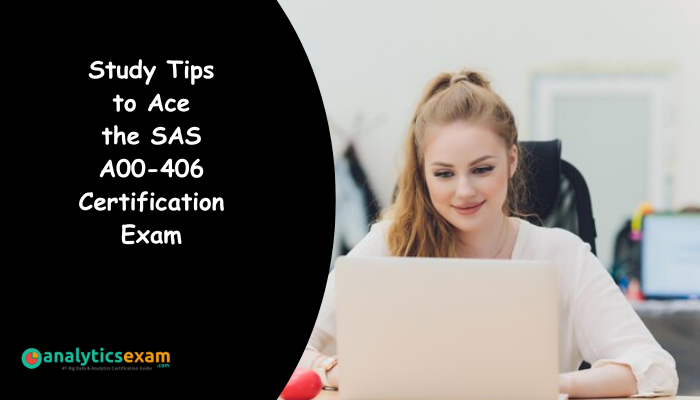 The SAS Viya Supervised Machine Learning Pipelines exam, A00-406, is a pivotal certification in today's competitive data science and analytics world. Achieving success in the exam can open doors to numerous career opportunities and solidify your expertise in the field. This comprehensive blog will explore the best strategies and tips to help you prepare effectively for the A00-406 exam.
What Is the A00-406 Certification All About?
The SAS Viya Supervised Machine Learning Pipelines certification delves into the theoretical underpinnings of methods related to supervised machine learning models. It employs demonstrations and exercises to solidify the understanding of these principles and the analytical methodology for addressing business challenges.
A00-406 Exam Objectives:
The A00-406 exam covers the following objectives. An aspirant must go through the exam content guide for more information about each objective.
40-46% - Building Models

30-36% - Data Sources

24-30% - Model assessment and deployment
What Is the A00-406 Exam Structure?
SAS and Pearson VUE jointly conduct this examination. It consists of 50-55 questions, which include multiple-choice and short-answer formats. Candidates are allotted 90 minutes to finish the exam. To pass, you need to achieve a score of at least 62%. This examination is centered around SAS Viya 4.0.
Here Are the Study Tips to Ace the SAS A00-406 Exam:
Understand the A00-406 Exam:
Before diving into the study tips, let's briefly introduce the SAS Certified Specialist - Machine Learning Using SAS Viya exam (A00-406) and its significance in data analytics.
The A00-406 exam evaluates your knowledge and skills in machine learning using SAS Viya. It consists of multiple-choice questions and hands-on tasks, testing your ability to work with text data, images, and video using SAS tools. The first step to acing the exam is understanding the structure clearly.
Knowing the A00-406 Exam Objectives Is Vital:
You must thoroughly understand the objectives to excel in the A00-406 exam. This is the foundation of your preparation.
You can find the official exam objectives and resources on the SAS website. Please familiarize yourself with these objectives, which will guide your study plan. The more you become confident with the exam structure, the greater the scope to get a high score.
Get Proper Study Materials:
Next, ensure you have suitable study materials. The following are essential resources for your A00-406 exam preparation:
Books: Invest in SAS Viya books that cover the exam domains.
Online Courses: Enroll in online courses offered by reputable platforms to gain in-depth knowledge.
Practice Exams: Access practice exams to test your knowledge and understand the format. Choose materials that are up-to-date to align with the latest exam changes.
Set A Study Schedule for the A00-406 Exam:
Effective time management is crucial. Develop a study schedule that allocates time to each key exam topic. Consider dedicating more time to areas you find challenging. Regular, focused study sessions will enhance your grasp of the material.
Hands-On Practice Is Vital During the A00-406 Exam Preparation:
Hands-on practice is the key to mastering machine based tasks. Implement practical exercises and projects to apply your knowledge. Experiment with real data to gain experience and confidence.
Join Study Groups and Forums for the Exam Preparation:
Connecting with peers and experts in the field can be immensely beneficial. Online forums and communities offer a platform for discussions, problem-solving, and sharing insights. Joining these groups can provide a fresh perspective on the subject matter.
Assess Your Readiness with A00-406 Practice Tests:
Practice exams are invaluable in assessing your readiness for the A00-406 exam. Utilize available practice exams to gauge your performance and identify improvement areas. Focus on refining your test-taking strategies.
Get Guidance from Professionals:
For a more structured approach, consider professional training or coaching. SAS-certified trainers and instructors can provide personalized guidance and ensure you are well-prepared for the exam. Their expertise can make a significant difference in your performance.
Understand Model Deployment:
Model deployment is a critical aspect of computer vision, and it's essential to grasp this concept. Dive into the specifics of model deployment and explore the best practices and resources available for learning this skill.
Chalk Out Your Knowledge Gaps:
Identifying your weaknesses is the first step in improvement. Develop strategies to strengthen your skills in areas where you may be struggling. Seek feedback from practice exams and adjust your study plan accordingly.
Exam Day Strategies Are Essential:
As the exam day approaches, implement effective strategies to manage your time and reduce stress. Explore methods for approaching different question types, and ensure you are well-rested and mentally prepared for the challenges ahead.
Benefits of Earning the A00-406 Certification Exam:
Get Better Opportunities:
Earning the SAS A00-406 certification opens numerous data management and analytics career opportunities. It showcases your computer vision and natural language processing expertise, making you an attractive candidate for employers seeking data-related roles.
Earn Better with the A00-406 Certification:
Data professionals with SAS certifications often command higher salaries than their non-certified counterparts. Holding the A00-406 certification can increase your earning potential, demonstrating your proficiency in high-demand skills.
Validation of Expertise:
The SAS A00-406 certification serves as a validation of your knowledge and skills in the machine learning domain using SAS Viya. It's a globally recognized credential that provides evidence of your capabilities to potential employers and clients.
Concluding Thoughts:
The A00-406 exam is a significant milestone in your data analytics career. By following these study tips, you can enhance your preparation, improve your chances of success, and elevate your career prospects. Remember, the A00-406 certification is not just a piece of paper; it's a testament to your expertise in data management and analytics.
By investing time and effort into your preparation and following these strategies, you'll be well on your way to achieving your A00-406 certification and advancing your career. So, start your journey today and embark on the path to becoming a SAS Certified Specialist - Machine Learning Using SAS Viya.