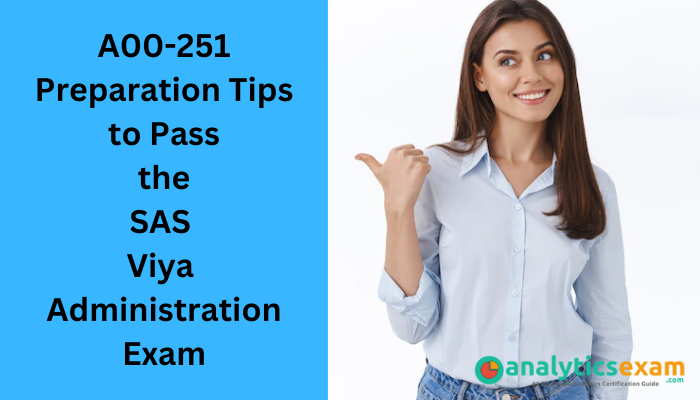 A00-251, SAS Certified Specialist - Administration of SAS Viya 3.5 certification could be a great career choice for many aspirants looking for job security. You must know that you'll be able to find a job across many different industries easily. The A00-251 certification will make you eligible for several different types of roles, which can be a huge motivator. Data analytics jobs are in high demand these days and earning the A00-251 certification could help you get a job across the globe.
Who Should Take the A00-251 Certification Exam?
The A00-251 certification exam is suitable for administrators who support the SAS Viya 3.5 environment.
Successful candidates should be able to:
Administer SAS Viya servers and services.

Update a SAS Viya deployment

Understand SAS Viya Architecture.

Monitor server activity and manage server logging.

Backup and restore a SAS Viya environment.

Add users and manage their access, identities, and external credentials.

Promote, manage and secure content and resources.

Create and manage caslibs.
Details of the A00-251 Certification:
The A00-251 exam is 110 minutes long, with 60 to 65 questions. An aspirant needs to get 65% marks to pass the exam.
Preparation Tips to Pass the A00-251 Exam:
Grasp the Syllabus Topics:
The key to success in the A00-251 exam is highly dependent on your skills in learning the syllabus domains. The syllabus domains are as follows-
Managing a SAS Viya Environment - 40%

Monitoring, logging and troubleshooting in a SAS Viya Environment - 17%

Identity and User management - 12%

Content and Functionality Management - 18%

Data management in SAS Cloud Analytic Services (CAS) - 12%
Checking out the percentage distribution is essential, as the syllabus is more focused on Managing a SAS Viya Environment topic. Therefore, whenever you make a schedule, save more time for learning this domain. Focus on learning the syllabus domains from the core, to perform well in the theoretical as well as practical works in the future.
Stay Devoted to Your Study Routine:
Following a study routine is essential if you want to cover the syllabus domains within a specific time. Remember, only making a routine won't help; you must be dedicated enough to earn success. Therefore, focus on following the routine and devote quality hours to daily study. Make notes from the essential topics to remember the topics and score high.
Join the Training:
Get a better knowledge about the syllabus domains through SAS training. The self-paced e-learning helps you to learn at your own convenience.
Take A00-251 Practice Tests:
A00-251 practice test exams help an aspirant learn more about their strengths and weaknesses regarding the syllabus domains. An aspirant improves his flaws through rigorous practice and can score better in the exam.
What Are the Benefits of Earning the A00-251 Certification?
Prove Your Expertise:
There is no better way to showcase your knowledge in a specific industry than by getting a specific training program and earning a specific certification. The SAS A00-251 exam proves your expertise regarding the specific syllabus domains and your knowledge of the Administering SAS Viya 3.5. With the specialist-level certification, you can showcase your knowledge and skills and stand out in the crowd of job seekers. Therefore, having a certification always makes you eligible to showcase your skills and knowledge to apply for the benefit of an organization.
Suppose you are already established in your career, and in the meantime, you earn the SAS A00-251 certification. In that case, your current employers will notice your newly gained skills and knowledge that are beneficial for future growth. You can also expect a better salary and promotion if you want to go for a new job.
Earn Recognition Across the Globe:
By earning the SAS A00-251 certification, you will automatically get listed in the official SAS Global Certified Professional Directory. This is the best way for potential employers to verify your certifications. It can also allow for potential job scopes, as this directory helps anyone to search for a particular location for aspirants with specific SAS certifications. The directory helps users to find individuals with all levels of SAS certifications. Now, the task of getting listed is not easy. You might be a seasoned professional, but your skills are only valued well if you are listed in the directory. Having the A00-251 certification opens up the scope for bigger, better opportunities.
Earning Potential Increases:
Whether it's a college degree or technical certification, one of the biggest motivations to enroll in a training program and earn your certification is directly associated with earning a higher salary.
Earning the SAS certified Specialist: Administration of SAS Viya 3.5 certification undoubtedly improves your earning potential.
Salaries for aspirants with SAS certifications typically range from $52,000 to $126,000 annually, with $81,038 being the average. Having a specific certification, like the SAS Certified Specialist: Administration of SAS Viya 3.5, boosts you with specific skills to earn more.
Bottom Line:
SAS certifications are in demand across the marketplace, proving your skills and knowledge regarding the syllabus domains. Therefore, earn the A00-251 certification for a lucrative career.