I should not start with this as we all know this, however, this always gives me a good start! : ) "SAS is one of the most popular Data Analytics tool currently available in the field."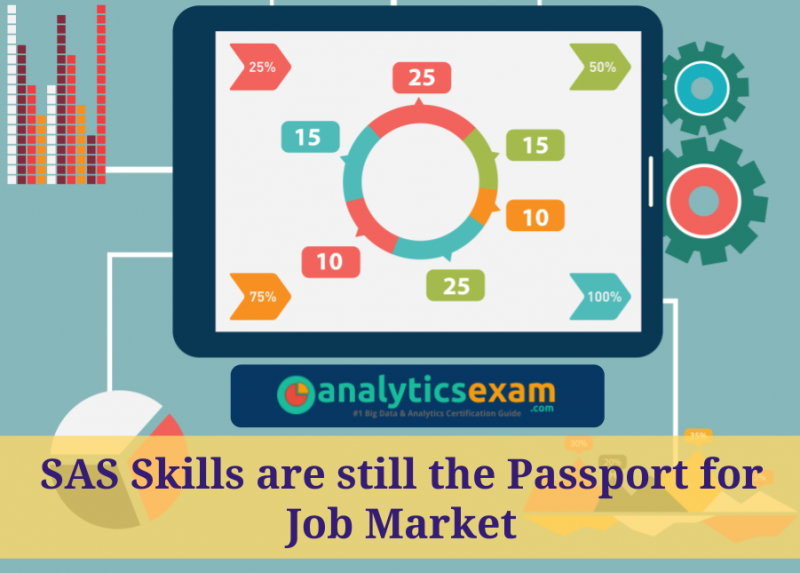 As the above statement is true, we can assume (it is fact indeed) that the demand of the SAS Professional in the market would be high almost every time. So those who are looking for the entry level or intermediate job in the SAS Data Analytics field, the most important is to clear a face to face interview or I would say to get oneself selected for the face to face interview. Establish self in the right position to get SAS used as propeller for your career flight as SAS is easy to learn and provides an easy option (PROC SQL) for people who already know SQL. SAS is on par with all leading tools including R & Python when it comes to handling huge amount of data and options for parallel computations. Globally, SAS is the market leader in available corporate jobs, and if we go by country, in some countries SAS has market share as high as 70%. If you are planning to build career in the field of Data Analytics with SAS technologies, we feel this is the right most time to start with SAS Certification Training. As we move ahead in this article, we will discuss some of the features and some of the common areas which will be very hand for those preparing for the career launch and getting ready for the upcoming interviews.
We will start by listing down the reasons for any organization to choose the SAS over other for becoming a data driven organization.
Common But powerful feature of SAS software suite,
Easy to Learn,
SAS is easy to learn and provides an easy option (PROC SQL) for people who already know SQL. Now why could this be important to an organization, well, it is important this will help in getting the quality employee easily. SAS is the most comfortable language across all three to learn and can be picked up by anyone without a prior programming language. The ability to parse SQL codes, integrated with macros and other native flavors makes SAS discovering a child's play for individuals with primary SQL know how. Its overall learning difficulty is low-to-medium.
SAS's Data Handling Capabilities,
SAS is having some series data handling capabilities and it is par with all leading tools including R & Python when it comes to handling huge amount of data and parallel computations. Any organization would for sure look for a reliable software on a long run and SAS has that quality.
Graphical Capabilities of SAS,
This is one of the most important feature I feel, as many other software does not have at par graphical presentation capabilities as SAS has. In the age where graphical capability matters most, SAS is having an edge for sure. While considering data science, the graphical capability is a crucial aspect of better data understanding. For this case, SAS wins in many areas.
Advancements in Tool,
SAS releases updates in a controlled environment, hence they are well tested. R & Python, on the other hand, have an open contribution and there are chances of errors in the latest developments which could lead to a fetal error in business decisions when business is heavily depending on the outcome of the Analytics Reports.
Big Data Applications,
in the present years, SAS is providing distinct options to execute analytics within Hadoop without moving cluster data but includes flexibility with open-source platforms. Python and R stay the first preference for professionals in Data Science. Therefore, SAS needs to run at a rapid pace with the evolving world to remain relevant.
Analytics,
Yes, why not to start with the most important aspect, i.e. Analytics. This world itself has become a field now, and SAS is the clear leader when it comes to provide Analytics as feature of their software suit. As we already stated SAS is the market leader in the analytics of various business vertical related as well as generic business products and services.
Data storage / Access and computation,
Yes, SAS do have business vertical specific software suits which are tailor made for those business verticals. Data Management on SAS is one of the USP of the software suite.
Visualization and Reporting,
SAS has an edge when it comes to Visualization over its near competitors. The powerful Graphical Reporting and Visualization can be a clear winner and that is what we are seeing.
Customer Service and Community,
SAS has dedicated customer service along with the community. So, if you have problems in installation or any other technical challenges, you can reach out to them easily and also as per my notice the most refined and quality advice you will get in SAS Community.
Career, SAS Skills are still be Passport for entry level and intermediate.
As we know now that the SAS is one of the most attractive package to choose for businesses, this opens up a huge demand for those who can leverage the data using the SAS software suite for the organizations. Globally, SAS is the market leader till end of the 2018 in available corporate jobs. Most of the big organizations still work on SAS. R / Python, on the other hand are an options for start-ups and companies looking for cost efficiency.
SAS skills still be the passport to enter the world of analytics, it is slowly losing in the game and doesn't command the same position as it was but still has a lion share in the Job market. There for an analytics aspirants, it has advisable to add SAS knowledge in their skillsets.