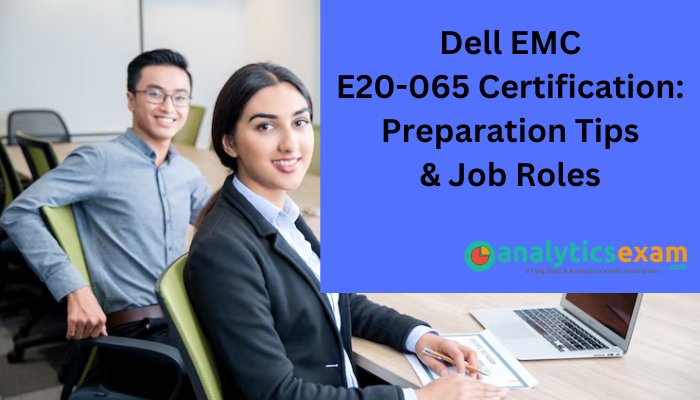 Earning the E20-065 Dell EMC Advanced Analytics Specialist for Data Scientists certification is challenging for many aspirants. But, the preparation gets easy with practice tests. Learn more about the preparation, and job roles of the E20-065 certification.
Overview of the E20-065 Certification:
The E20-065 certification sets the skills created in the Associate level course in Data Science (Data Science & Big Data Analytics). The certification helps aspiring Data Scientists to evolve and expand their skill sets continuously. The main learning areas include Hadoop (and Pig, Hive, HBase), advanced analytical methods, Natural Language Processing, Social Network Analysis, and Visualization methods. The development of these skills and the use of the methods offer the data scientist the skills to identify and communicate conclusions and recommendations in order to aid business challenges across many domains.
Prerequisite to Take the E20-065 Certification:
The aspirant must get one of the following certifications-
Associate - Data Science Version 1.0

Associate - Data Science Version 2.0
What Are the Syllabus Domains?
The E20-065 exam covers the following domains-
Data Visualization (12%)

Data Science Theory and Methods (15%)

Social Network Analysis (SNA) (23%)

Natural Language Processing (NLP) (20%)

Hadoop Ecosystem and NoSQL (15%)

MapReduce (15%)
Preparation Tips to Pass the E20-065 Certification:
Grasp the Syllabus Doamains from the Core:
The aspirant must possess a full grip on the syllabus domains, as it will help in acing the certification exam and enhance the aspirant's practical skills.
Fix A Study Schedule:
If you are keen to pass the E20-065 exam, you must be serious from the beginning. Therefore, take the help of a study schedule and follow it rigorously for maximum benefit. Regular study helps a lot to keep the aspirant away from stress at the last moment. Therefore, cover small sections regularly and become stronger with the syllabus domains.
Take E20-065 Practice Test:
E20-065 practice tests are essential for your success. These tests offer you the experience like real exam questions and your ability to attempt the multiple-choice exam becomes better. You will also get insights on your preparation level to score better in the actual exam.
Roles and Responsibilities of Data Scientists:
Data scientists are key players in utilizing data science in organizations. They are often responsible for discovering information that can improve marketing campaigns, enhance customer service, optimize supply chain management, and inform overall business decisions and strategies. To achieve this, they examine both quantitative and qualitative data sets, depending on the requirements of each specific application.
Data scientists may also be tasked with exploring data without a predetermined business problem to address. In such a scenario, the data scientist must have a strong grasp of the data and the business context to generate questions, conduct the necessary analysis, and provide insights to business leaders on potential improvements to operations, products, or services.
The Basic Duties of A Data Scientist Comprise the Following Tasks:
Collecting and preparing pertinent data for use in analytical applications.

Using different types of analytics tools to detect trends, patterns, and relationships in data sets.

They create statistical and predictive models to function against the data sets.

The data scientists create visualizations, dashboards, and reports to communicate their findings effectively.

In numerous organizations, data scientists are additionally tasked with establishing and advocating for optimal data collection, preparation, and analysis methods.

Moreover, certain data scientists create artificial intelligence (AI) technologies for internal usage or for customers, such as conversational AI systems, AI-powered robots, and other self-governing machines, including crucial elements in autonomous vehicles.
What Skills Help Attain the E20-065 Certification?
Proficiency in all stages of data science, from preliminary data exploration and cleaning to selecting, validating, and deploying models.

Familiarity and comprehension of standard data warehouse and data lake architectures.

Hands-on experience employing statistical methodologies to resolve analytical problems;

Competency in prevalent machine learning frameworks.

Acquaintance with standard data science and machine learning techniques, including decision trees, K-nearest neighbors, random forests, naive Bayes classifiers, random forests, and support vector machines.

Proficiency in techniques for both quantitative and qualitative analysis.

The aspirant must be able to identify new possibilities to apply machine learning and data mining tools to business methodologies to enhance their efficiency and effectiveness.

The aspirant must possess knowledge regarding public cloud services.

Knowledge of a broad range of data sources, such as big data platforms and databases as well as public or private APIs and standard data formats.

The aspirant should be able to aggregate data from disparate sources and get it ready for analysis.

The E20-065 aspirant should have experience with data visualization tools like Power BI.

The aspirant should be able to design and implement reporting dashboards that help track key business metrics and offer actionable insights, and the ability to do ad hoc analysis and present the results clearly.
Bottom Line:
Globally, the demand for data scientists could witness a whopping 200% rise by 2026. Therefore, the demand for data science jobs will create a high demand for certified professionals. So, pass the E20-065 exam and earn the Dell EMC Advanced Analytics Specialist for Data Scientists certification.