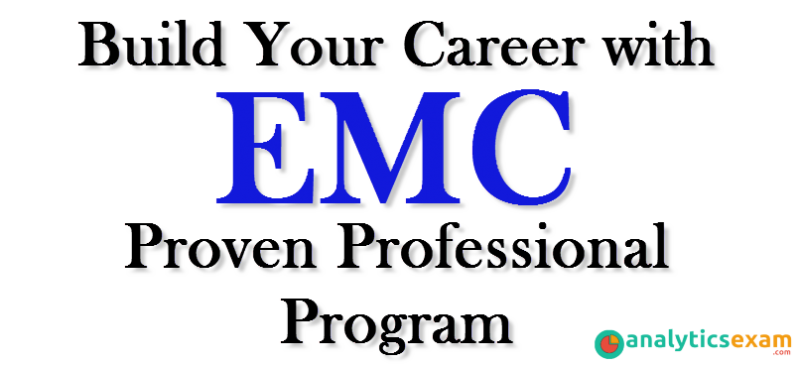 Dell EMC has been a market leader in the storage space for more than two decades now. With such term comes a responsibility to train and certify storage engineers, developers, administrators and architects on the company's hardware and software. Dell EMC doing the same through its Proven Professional certification program, and uses this program to maintain stringent training and certification requirements, as well as to provide a conduit for gathering valuable feedback from customers and IT professionals. Getting certified for Dell EMC Proven Professional allows direct input into Dell EMC's product teams, so certification holders can affect the timing and feature-sets for Dell EMC products and services.
As we already said, Dell EMC is one of the most popular and successful that it comes as no surprise that the company has garnered the attention of various IT industry powerhouses. Currently, Dell plans to acquire Dell EMC for $67 billion. There are bound to change at Dell EMC once that acquisition is final, so credential seekers should check the Dell EMC site frequently for potential updates to the Dell EMC certification program.
Dell EMC Certification Program Overview
There are different specialization tracks exist within the Proven Professional program by Dell EMC, this allows certificate holders to attain a depth of knowledge which most Dell EMC users cannot acquire in specific areas of Dell EMC products and storage technologies normally. Proven Professional tracks include data scientist, cloud architect, cloud and storage administrator, technology architect, cloud, platform and implementation, application developer and system administration. Most of Proven Professional tracks come in three levels: Associate, Specialist, and Expert. The Dell EMC certification process allows Proven Professionals to acquire experience and knowledge that can greatly assist in acquiring and flourishing in a storage-related job.
Each certification track in the Proven Professional program identifies a specific target audience. Current tracks that are open to any and all interested parties include the following:
Data Scientist (Dell EMC DS)

Cloud Architect (Dell EMC CA)

Cloud Administrator (Dell EMC CAD)
Tracks geared towards Dell EMC partners and customers include:
Storage Administrator (Dell EMC SA)

Product/technology specific (ScaleIO Server-based SAN, ViPR Controller and Data Services, ViPR SRM Storage Resource Management, and Data Protection Advisor)
Tracks designed for partners only include the following:
Product/technology specific (XtremIO flash storage solutions)

Technology Architect (Dell EMC TA)

Cloud Engineer (Dell

EMC CE

)

Platform Engineer (Dell EMC PE)

Implementation Engineer (Dell EMC IE)
Prerequisites, pertinent technologies covered and additional specifics for each certification track and knowledge level are available on the Proven Professional website. Note that Dell EMC provides free practice tests so that you can evaluate your readiness for each certification exam in advance. Of course, scoring a passing grade on the practice exam doesn't guarantee that you will pass the real exam, but relevant practice exams can indicate knowledge areas where you need more work prior to taking the real thing.
As we know now, Dell EMC being one of the most trusted and reputed in the field of analytics and data storage and management, the person holding certification have a great advantage over other who are not certified. The job role and description is a fairly new development in the world of storage technology. Previously, storage analysts may have also been called "business analysts" or "data analysts", with diverse differences between the focus for each such role. IT business analysts are responsible for maintaining a business perspective on IT functions and operations, combining IT priorities with the business priorities of a company. Data analysts have traditionally focused on the technical aspects of storage and data management.
The data scientist role is a conglomeration of these two analyst roles: combining a strong technical background and understanding of data analytics with the acumen to recognize the impact of IT decisions on business operations. As you can see, a data scientist builds a bridge between the IT world and the business world, so that each side can appreciate concerns and input from the other. Think of data scientists as big-picture business leaders with a strong technical background in data analytics and management; in other words, they represent (and create) the best of both storage worlds.